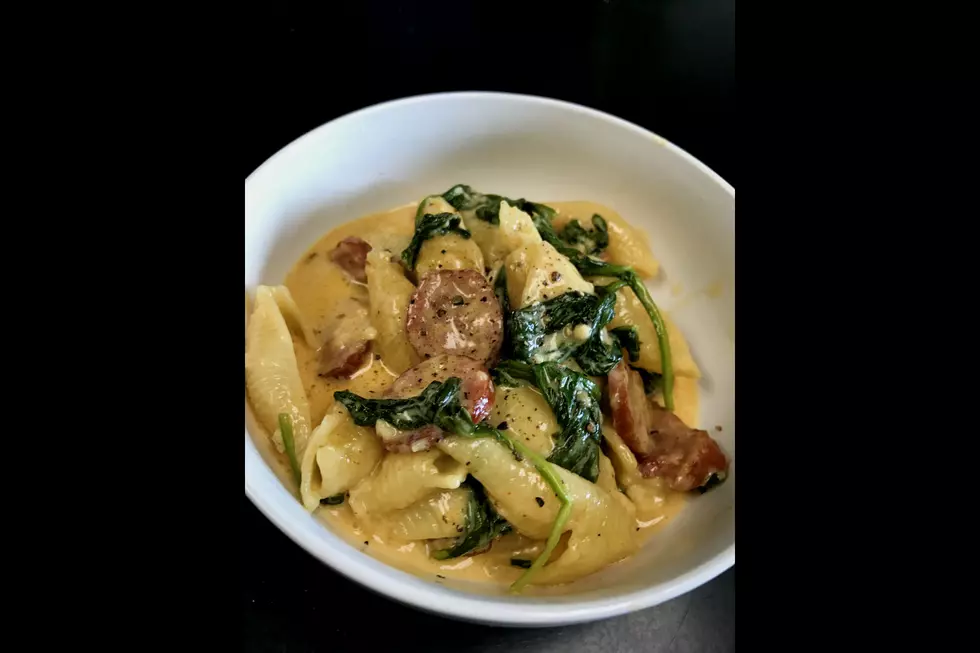 Kiss the Cook with Krystal Montez, Pasta Edition!
Krystal Montez- KISS THE COOK
All you really need for a delicious comfort food plate is butter and cheese. Bare with me, this is NOT a healthy dish by any means, but it WILL make all of your friends ask for seconds. According to Robert Wright "this is the best meal you've ever made kid!"

Here's what you will need to make the Down Home Spinach Parmesan Pasta:
Down Home Meats Sausage 1 Package (Hot or Regular)
Olive Oil
16 oz Shell Pasta
4 large hands full of spinach
2 sticks of butter
2 cups of heavy cream
2 cups of grated Parmesan cheese
4 cloves of minced garlic
3 teaspoons of black pepper
2 teaspoons paprika
Cook the down home sausage over medium heat, I always add olive oil to keep the sausage from sticking to the pan. For the sauce, remember to keep the heat on medium, add the butter and heavy whipping cream first. When the butter has melted completely add the garlic, pepper, and paprika. Once all the ingredients are mixed add the cheese. I would recommend adding the cheese in slowly. Once the cheese has melted you'll taste the sauce and realize you can out the sauce on anything and it would be the best ever! Add the spinach to the sauce, then add the sauce to the pasta and sausage. Serve it up throw some cracked red pepper and some Parmesan cheese on top and YUMMY. Enjoy!
More From KISS Country 93.7