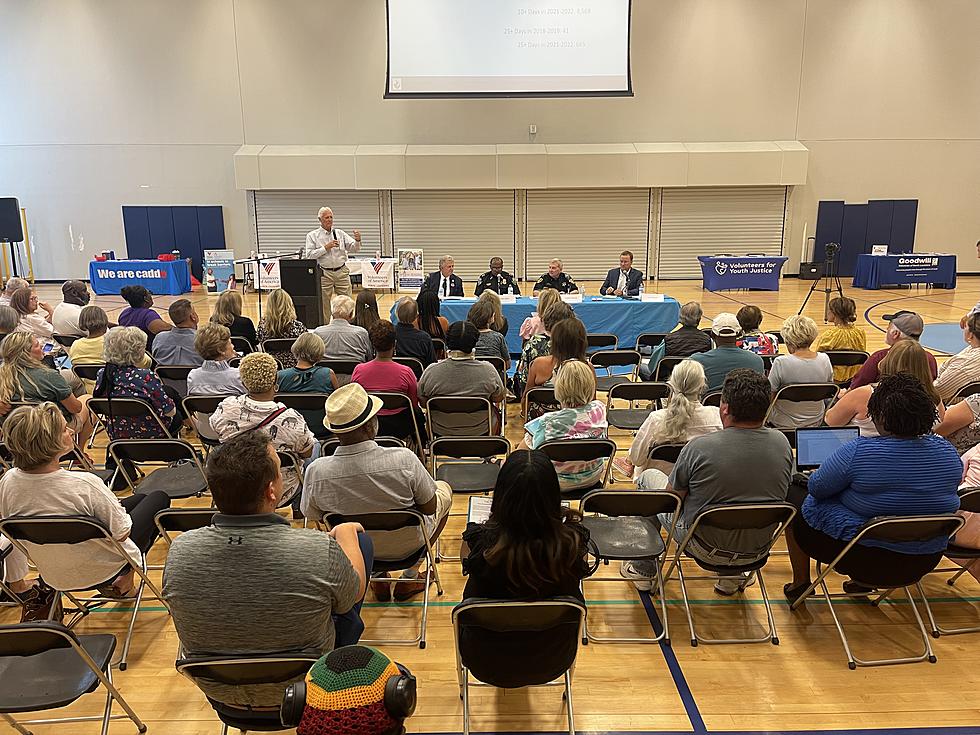 Caddo & Shreveport Law Enforcement Leaders Hold Crime Forum
Mike Martindale
Law enforcement leaders from Shreveport and Caddo Parish were on the panel of a juvenile crime forum held Thursday evening, including Caddo Parish Sheriff Steve Prator, Shreveport Police Chief Wayne Smith, Shreveport Mayor Tom Arceneaux, and Caddo Parish Assistant Administrator Clay Walker.  The forum was hosted by the BHP Billiton YMCA in Shreveport.
One disturbing statistic brought up during last night's forum was that youth are becoming more active in crime beginning at a much lower age.  Shreveport Police Chief Wayne Smith said that during his 40 years in law enforcement, he's never seen crime, in particularly violent crime, being perpetrated by offenders at such young ages.
Caddo Parish Assistant Administrator Clay Walker said there are two main factors that contribute to the increase in juvenile crime. Poverty and transportation. When asked about the detrimental effects the country's response to COVID had on school children, Walker told KEEL News:
For a number of children, particularly children in poverty, if they can't afford to join CABOSA, they can't play little league, they don't have a dance troupe, or whatever, this is boys and girls...  if they can't do any of that... then the school day, and the professionals in the school buildings are their village.  That's their access to coaches, assistant principals, the school resource officers... just positive role models in their life.  And so for 18 months that they were home from COVID, they don't have access to that.... so what ends up happening is more children were vulnerable to gangs because of that...
Walker continued:
 Normally we have a number of kids that are vulnerable, if they don't have a father figure and they don't have that male role model in their life, they're going to be vulnerable to that 19-year-old on the street corner.  Come COVID, when they're not in school for 8 hours a day, they're on that street corner with that 19-year-old for 2 years, and that blows up our numbers in gangs.
But there was some positive messages that came from last night's meeting.  Walker said:
But if we can reach them, the one way at 16 or 17, find what they are interested in... they've got to decide when they want to make a change in their life... if you can find something positive that they are interested in, and offer them that path, they will take it.
Walker emphasized ways people can make a difference.  He said they need more men to get involved.  They need more positive male influences to get involved to make a difference in those young men's lives.
 The exciting news is, the Shreveport Police are doing a strategic plan. The second goal of that plan is prevention. And in that plan, that is rolling out right now, Assistant Chief Antoine White is in charge of that plan, and he's going to roll out some things that we're going to do as a community.  And what we're going to try to do is have some very specific ways that people can get involved.   At the end of the day, we're going to need to be able to put that 14 year old that's having some struggles.. I need to put him on a baseball team, I need to put him in the Cub Scouts, I need to put him somewhere where he has positive peers, and positive adult role models.  And it's going to take volunteers to be able to do that.
There are already several opportunities for those who are willing to become involved. Here are links to but a few organizations in Shreveport Bossier that always need help and volunteers.
These are just a few local organizations making a difference.  Local churches also have programs that you can find if you're interested in helping to make a difference.
WOAH: 50 Signs You Were a Teenager in the '90s
Grab your Hypercolor T-Shirt and Bonnie Bell Lip Smackers because we're traveling in time to the most radical decade of them all. Only real '90s teens will remember these iconic pop culture moments--see how many you recall!
Gallery Credit: Meg Dowdy
Gentleman's Cooking Classic 2023
See All the Great Food at this Year's Event
More From KISS Country 93.7