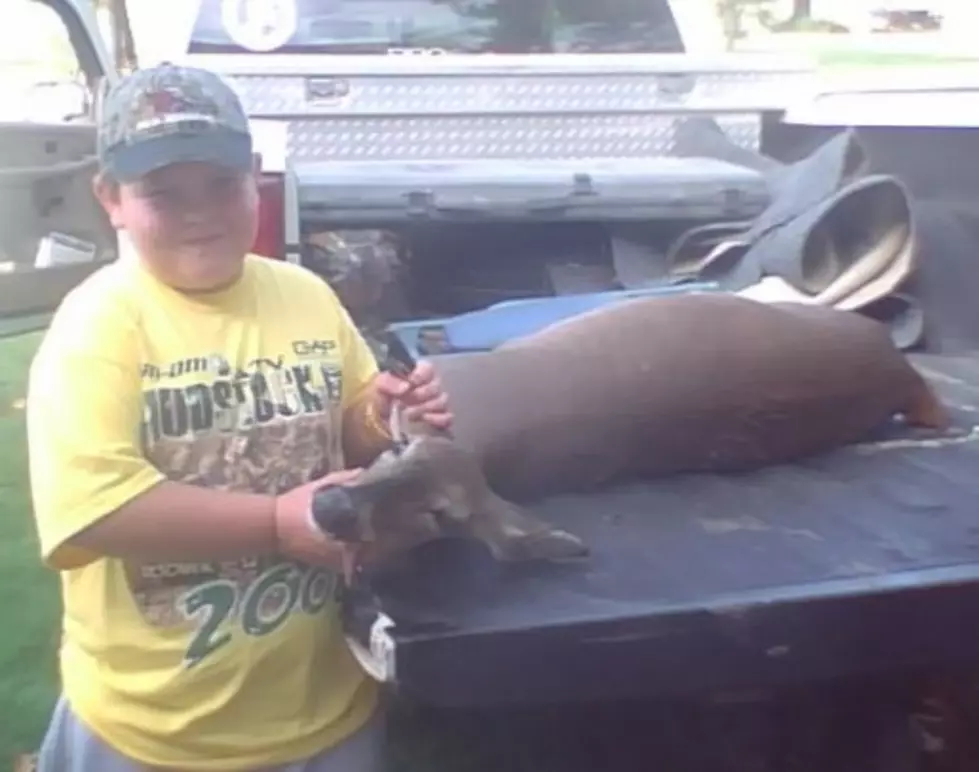 All You Need to Know About Louisiana's Youth Deer Hunting Week
Photo by Gary McCoy
If you're into bow hunting for whitetail deer, you certainly don't need me to tell you that archery season just began on Sunday, October 1, but for the kids and veterans of Louisiana, the big day is this Saturday, October 8, when it's GAME ON for them too!
According to the Louisiana 2023-24 Hunting and WMA Regulations, Youth/Veterans Deer Season will run for a full week again this year, beginning this Saturday, October 14 and continuing through Friday, October 20, and will allow honorably discharged veterans and qualified youth hunters additional days to harvest a deer.
And with lots of kids out of school for Fall Break this week, it's likely that the woods will be full of young, hopeful hunters.
The Rules For Youth Deer Week
All youth 17 and under are required to have a Youth Hunting License and Deer tags which is $5.00.
 Youths must possess a hunter safety certification or proof of successful completion of a hunter safety course. Youths must be accompanied by one adult 18 years of age or older. If the accompanying adult is in possession of hunter safety certification, a valid hunting license or proof of successful completion of a hunter safety course, this requirement is waived for youths younger than 16 years of age.
Youths must possess a Youth License. Adults may not possess a firearm.
Youths may possess only one legal firearm while hunting. The supervising adult shall maintain visual and voice contact with the youth at all times, EXCEPT properly licensed youths 16-17 years old and youths 12 years old or older who have successfully completed a hunter safety course may hunt without a supervising adult
Important Dates To Remember
Along with this special Youth/Veterans week, youths 17 or younger, can use any legal weapon to harvest a deer during the "Primitive Weapons Season" which for Area 2 will run October 21 through October 27.
Of course, gun season here in Area 2 begins October 28, so by then, the woods will be teeming with hunters and dreams of old Bullwinkle showing up.
Deer Hunting - Area 2 - 2023-24 Schedule
Either-Sex Archery Oct. 1 - Jan. 31
Primitive Firearms Oct. 21-27  and Jan. 15-21
Firearms (Still-Hunt Only) Oct. 28 - Dec. 5
Firearms (With or Without Dogs) Dec. 6 - Jan. 14
Youth and Honorably Discharged Veterans Oct. 14-20
ALL OF THE FOLLOWING PARISHES ARE OPEN Bienville, Bossier, Caddo, Caldwell, Claiborne, DeSoto, Jackson, Lincoln, Natchi- toches, Red River, Sabine, Union, Webster and Winn EXCEPT Kisatchie National Forest which has special regulations; consult the U.S. Forest Service for regulations. Caney, Corney, and Middlefork tracts of Kisatchie have the same regulations as Area 2, EXCEPT still hunting only for deer
The 5 Louisiana Kids Who've Disappeared Since August 1, 2023
In the extremely violent world we live in today, it's horrifying to think of another child who's possibly been taken by someone and sold into sex slavery or any other evil reason. Please see their photos and if you happen to see them or know the whereabouts of any of these children, immediately contact police to let them know.
Gallery Credit: Gary McCoy
More From KISS Country 93.7