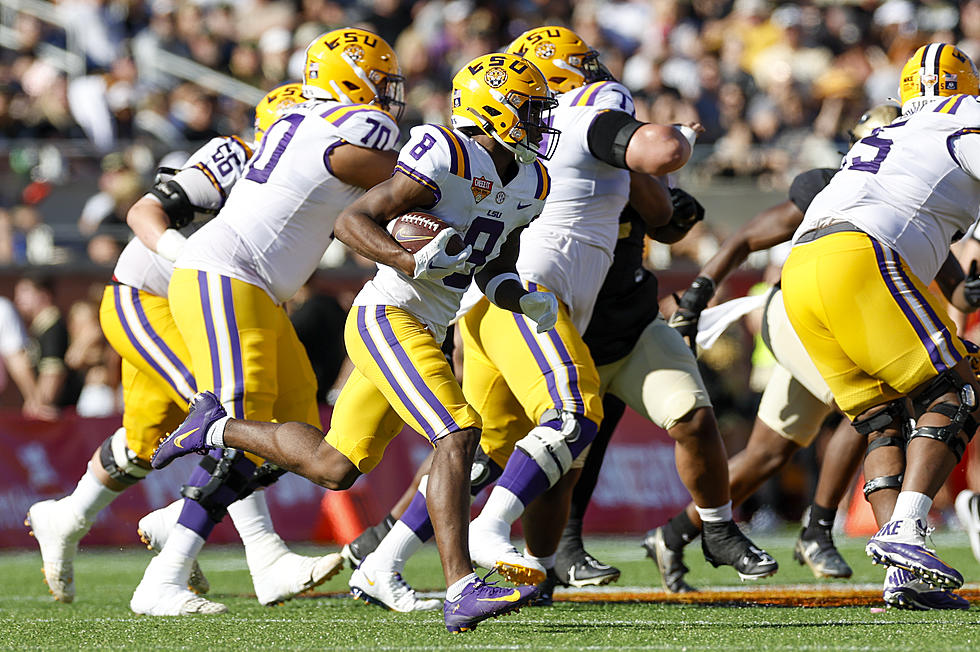 What Games Will LSU Win in 2023?
Photo by David Rosenblum/Icon Sportswire via Getty Images
As Brian Kelly enters his second year as Head Coach of the LSU Tigers, some might say a little pressure has just been put on him.  Kim Mulkey, Head Coach of LSU Women's Basketball recently won an NCAA National Championship in her second year. Just last Sunday, LSU Baseball Head Coach Jay Johnson led the LSU Men's Baseball team to their first National Championship since 2009... in his second year.  This is Brian Kelly's second year as Head Coach of the LSU Tigers.
Last year, Kelly's Bayou Bengals won 10 games, including knocking off perennial rival Alabama.  LSU finished the season 10-4, winning the Citrus Bowl, beating Purdue 63-7... Not a bad first year.  Kelly has now had a year to get to know his team, the program, and be able to recruit his own players. Expectations are naturally high.
LSU returns 8 starters to their impressive offense from last year, including quarterback Jayden Daniels, believed to be the leading candidate as starter this year.  Also, coming back are all 5 offensive linemen, and tight-end Mason Taylor.
I might be overly optimistic, but here are my predictions for LSU's 2023 season.
Week 1- September 3 (Sunday)
LSU VS Florida State at Camping World Stadium in Orlando 6:30pm- Last year LSU Opened with a loss to FSU... I don't think that will happen again this year- WIN
Week 2- September 9
LSU hosts Grambling State 6:30pm-  The first home game of the season ends in a victory for the Tigers... the LSU Tigers... WIN
Week 3- September 16
LSU at Mississippi State 11AM-  LSU won last year's matchup 31-16... no reason we shouldn't do the same again this year. WIN
Week 4- September 23
LSU Vs Arkansas Tiger Stadium TBA-  Last year's contest was a close one with LSU coming out on top 13-10... this year will be even better.  WIN
Week 5 September 30
LSU at Ole Miss Rebels TBA-  Schedules don't matter when the Rebels play LSU, but this year Kelly will have their number.  WIN
Week 6 October 7
LSU at Missouri TBA- Non-conference game that won't matter in SEC rankings, but will matter in overall ranking... but doesn't matter, because LSU puts another in the W column.  WIN
Week 7 October 14
LSU hosts Auburn TBA-  This is one of the true "Rivalry Games" that always matters.  Close last year, but with LSU at home, they will get the win.   WIN
Week 8 October 21
LSU VS Army at Tiger Stadium TBA-  My apologies to the Army faithful, but this should be an easy W.  WIN
Week 9- November 28
Bye Week
Week 10 November 4
LSU at Alabama TBA-  Brian Kelly came in in his first year and hung his hat on a huge win over Alabama last year.  But this year, we're in their house... they're looking for revenge... I think it might be too much... I think this is our only loss.   LOSE
Week 11 November 11
LSU VS Florida at Tiger Stadium-  After beating Florida in the NCAA Baseball Championship, I think the Fighting Tigers continue that momentum on the gridiron and notches another W.  WIN
Week 12 November 18
LSU hosts Georgia State Panthers TBA- This should speak for itself.  WIN
Week 13 November 25
LSU hosts Texas A&M TBA- Last year A&M was the first of two losses in a row as the Tigers fell 38-23. But Jimbo Fisher's offense, run by new Offensive Coordinator Bobby Petrino, (Really??) won't have the same luck this year.  WIN
Pictures From LSU's 2022 Football Season
Pictures From LSU's Win Over Alabama On 11/5/22
LSU beat Alabama 32-21 in Tigers Stadium on Saturday, November 5th, 2022. The game was a walk-off win in overtime for the Tigers, and sent Death Valley into chaos.
More From KISS Country 93.7