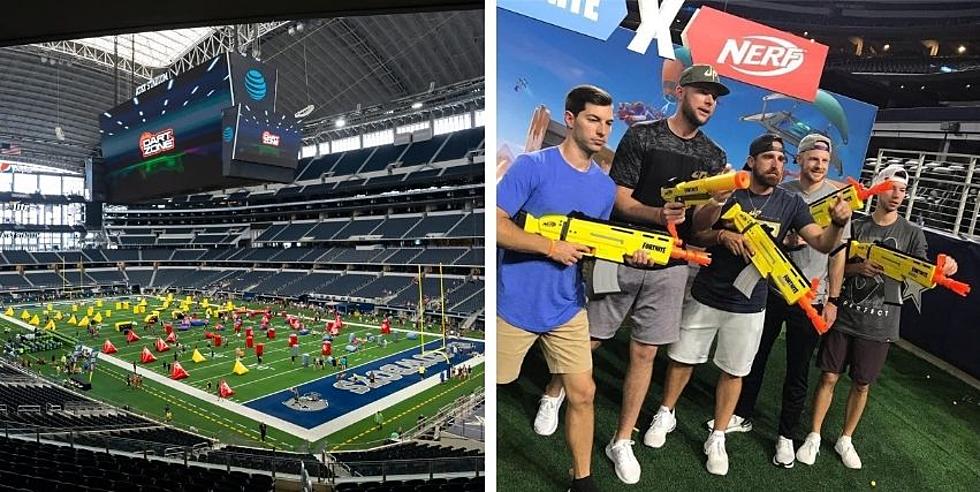 Shreveport's Just 3 1/2 Hours From Worlds Most Epic Nerf Battle
Jared Guynes Facebook
Did you know that once a year a totally normal dude named Jared rents out AT&T Stadium in Arlington, Texas?
Jared's Epic Blaster Battle 7: The Largest Toy Battle in the World Plans Its Epic Return in June.
Instead of seeing the Dallas Cowboys running around the AT&T stadium plan to see thousands, yes, thousands of kids running all over the field with the most epic obstacles possible.
If you think that this sounds like a whole lot of people, you aren't alone.
This Nerf Battle is so Epically Huge That Guinness World Records Recognized it as the "Worlds Largest Toy Pistol Fight" in 2016.
Imagine 4,000 of your closest nerf-loving buddies having the best day of their lives inside a climate-controlled stadium.  Isn't that grand?
Not Only Do You Get to Be Part of an Epic Nerf Gun Battle, But You Can Also Tour AT&T Stadium.
Ticket price ranges from $16-$32 and yes, that ticket even gets you the exclusive Jerry's world tour.  Mark your calendar for June 25, 2022. You can get all the information and buy your tickets by clicking here. 
"MANY PEOPLE STILL HAVE NO IDEA - Once a year a totally normal dude rents out AT&T Stadium (Wrestlemania, Super Bowl, Monster Jam, etc) and creates the worlds largest Nerf Battle Arena. The event was recognized by Guinness World Records as the "Worlds Largest Toy Pistol Fight" in 2016 and the record still stands to this day. 4,000 participants battle amongst 100+ large obstacles on the field of the worlds most valuable sports franchise inside of a billion dollar climate controlled arena…
That dude is me.
And the event is called "Jared's Epic Blaster Battle." And it's coming back again on June 25th 2022. And affordable tickets are on sale and you should probably buy some.
I would challenge you to show me ANY ticketed event at AT&T Stadium you could access at this price point, because I've already done the research and you can't. That's because my unique event is so cheap to attend it's the same price as the Cowboys own "self guided stadium tour" which is also included in the cost of my events admission. Yeah I thought of everything.
It's not just a kids event either, it's a truly fun and remarkable experience for all ages with foam flinging fun for 4 hours straight across 16 different battle scenarios. Live DJ. Interactive games. Free prizes. YouTube celebrity guests, and much more…
I pay a lot of money to Facebook annually to help spread the word about this event, because every year people tell me "I had no idea this existed" and even then I bet someone reading right now didn't know about it. But the ads can only do much, and most people will still never see them.
It's my hope that everyone in North Texas and beyond understands the fun they can have on June 25th 2022 in Arlington Texas. "
Check Out These Pictures From Geek'd Con 2016
Take a Look Inside Bossier's Completed Surge Entertainment by Drew Brees!
The highly anticipated Surge Entertainment by Drew Brees is finally finished! While it isn't set to open until this weekend (fingers crossed), we were able to sneak in to give you a peek of what to expect - and it's a lot to take in. Video games, bowling, virtual reality experiences, great food, and more all await you - check it out!
More From KISS Country 93.7