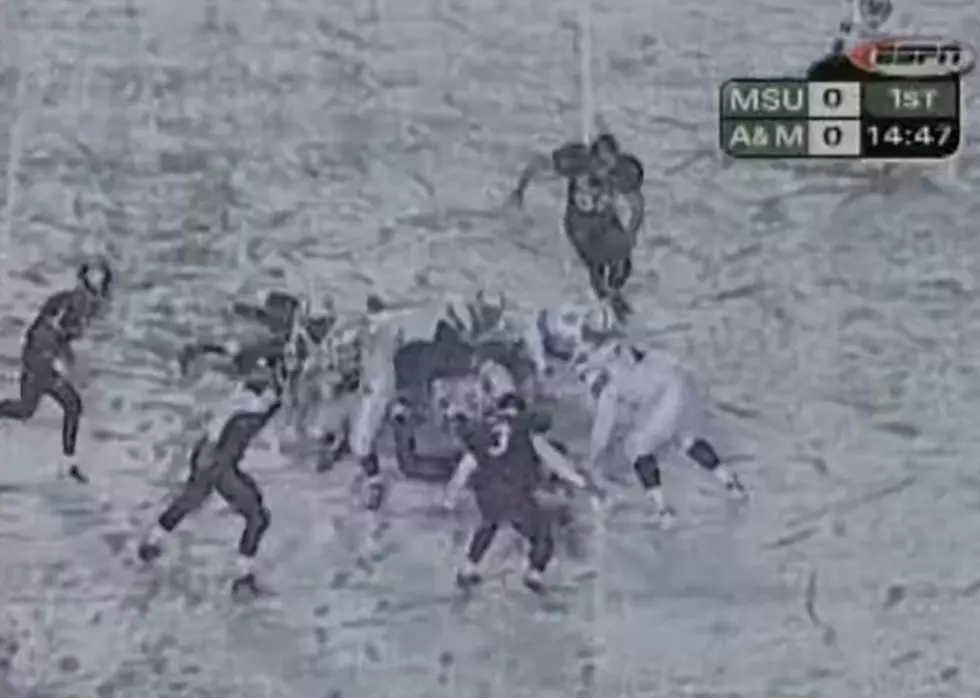 Remember the Year it Snowed During Shreveport's Indy Bowl?
Still shot from YouTube video by Radiance Technologies Independence Bowl
If you are old enough to remember New Year's Eve in 2000, you probably remember what event occurred that day that put Shreveport in the national spotlight.
Texas A&M and Mississippi State University were in town for the annual Independence Bowl which would soon become known all over the country as the "Snow Bowl."
It was about thirty minutes prior to kickoff when snow blew into Shreveport and by the second quarter, all the turf was covered forcing plows to be used during timeouts to make all the goal lines, yardage lines and hash marks visible.
At certain times, the snow came down so hard, that television viewers said it was much like watching television static and half of the nearly 37,000 fans called it quits by half time and left the stands to finish the game from the comforts of an indoor television.
Just check out this video to jog your memory.
Mississippi State won the game in overtime 43-41 and Coach Jackie Sherrill said his team won through their sheer will, "There might have been a different football game under normal conditions, but our team just never gave up." Sherrill continued, "I was surprised both teams scored as many points as we did in the snow."
Could The Same Thing Happen For This Week's Indy Bowl?
Is it likely that this week, Shreveport could see a repeat of that infamous game from twenty two years ago?
With the University of Louisiana Lafayette and the University of Houston slated to kick off at 2:00pm this Friday, December 23, there is certainly a strong chance that they will play the "coldest" Independence Bowl in history, but it really doesn't look likely that we will see any snowfall during the game.
According to the National Weather Service, there's a slight chance of rain, mixing with sleet after 3:00 pm this Thursday, December 22.  Then, it will be dangerously cold.
Their forecast says we should see a low Friday morning of about 11 degrees.  Forecasters are calling for lots of sunshine Friday afternoon, but it will have very little effect on the temperature as the forecasted high is only 25.  Then Friday night temperatures will drop sharply again to a low around 16.
If you're planning to attend the game, you might want to watch some previous games from the Green Bay Packers so you'll know how to dress.
Ten Things Louisiana People Hate Most About Winter
People in Louisiana live here for a lot of reasons, but one of the biggest is that they really don't like to be cold. And this is proof positive. It's the ten things Louisiana people say they hate the absolute most about winter.
LOOK: 25 over-the-top Christmas displays from across America
To help get everyone in the mood for the upcoming holiday season,
Stacker
compiled a list of some of the most over-the-top Christmas displays across America.
More From KISS Country 93.7