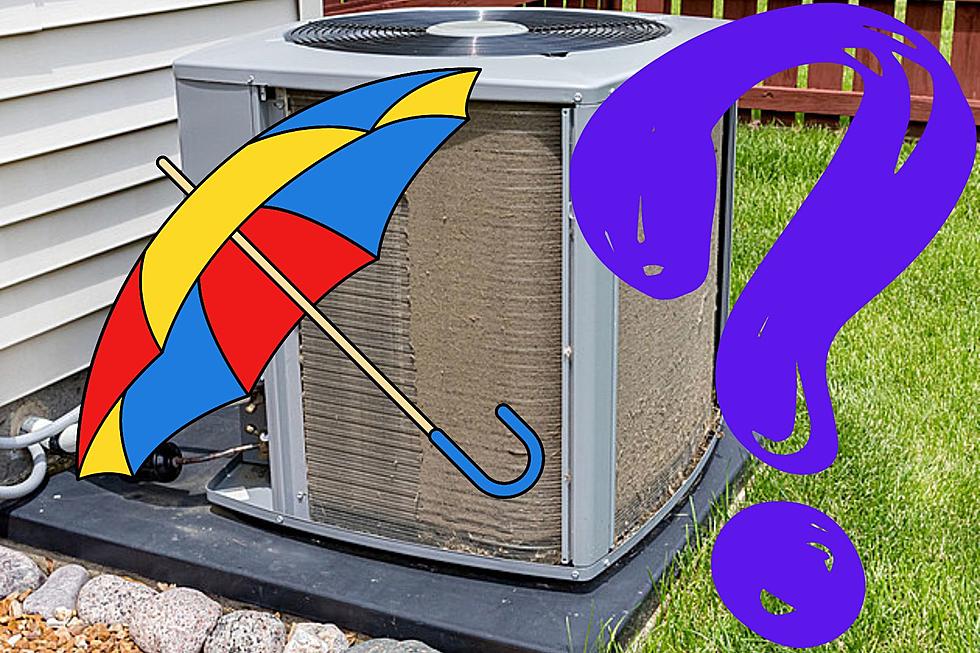 Does Your A/C Unit Need Shade to Work Better in Shreveport, LA?
Canva/JJ Gouin
Have you seen the social media post claiming that covering your outdoor A/C unit can help it to run better/more efficiently? We decided to investigate.
Research by the Department of Energy says that yes, shading your outside A/C unit can reduce costs by up to 10%. However, they suggest creating shade by using landscaping, not an umbrella placed by your unit. In fact, they recommend that you 'Plant trees near paved areas around the house or grow vines on a trellis over or near patios to create cooler areas around your house.  For good airflow and access, plants should be more than three feet away from the air conditioner.'
We decided to dig a little deeper into the umbrella question and a quick Google search produced mixed results. TexasMonthly.com says, 'No, putting an umbrella over your A/C unit won't help it cool.' BrandonAirConditioning.com says shading your outdoor A/C unit only works with smaller window units because they don't come with a separate condenser and steel cover.  Meanwhile, CooperClimateControl.com says that 'Shading your air conditioner's outdoor condenser unit is an accepted way to increase its efficiency and lower your cooling costs.'
So, what's the definitive answer? We decided to reach out to our local heating and cooling experts to find out if shading our A/C units could possibly reduce our monthly electric bill. After all, with temperatures heating up, now would be the time to take action.
Julian Montgomery, owner of Ice Cold A/C and Heating in Bossier City says, 'I don't recommend it. I believe the umbrella will cause airflow restrictions and circulate hot exhaust air and cause the unit to work harder. It sounds like a good idea, but I don't believe it would be beneficial. I do think shade does help the A/C unit, but not an umbrella that hovers a few feet over the unit.'
Bobby Brannon, the owner of Bobby Brannon Heating and Air Conditioning, LLC, says, 'An A/C unit is designed to sit outdoors in the wide open. If you attempt to shade an A/C unit, you could be hurting it more because you might impede the airflow of the condenser fan motor and the air coming through the condenser coils.' Bobby also says that if your A/C unit looks like the one pictured at the top of the article, you should really consider having it cleaned.
In short, there are plenty of things you can do at home to help keep your air conditioning unit running smoothly, but it's always best to consult a professional like the ones listed above, first.
What are the top things you can do to beat the heat?
1. Stay Hydrated - The CDC recommends drinking anywhere from 16 - 32 ounces of cool water for every hour you spend in the heat.
2. Find Some Shade - Whether you find a tree or bring along an umbrella or a pop-up tent, shade makes a huge difference. Of course, a cabana boy fanning you with a large palm leaf would be good, too!
3. Take a Dip - Is there anything more refreshing than taking a swim during the summer? Whether it's a pool, lake, or even running through the sprinkler, it'll cool you down fast. Just make sure to wear sunscreen!
4. Try to Avoid Peak Heat - If you can schedule your activity for the morning before the full heat of the day or when the sun is finally going down, do it! And don't forget to make sure your ceiling fans are rotating counterclockwise.
5. Wet Towels - Keep damp towels in a cooler or even better, freeze paper towels and take them with you. When you get hot, apply these to your neck and wrists. You'll instantly feel much cooler. And if you can find it, try Florida Water. We used this during travel ball and it really works! A spray bottle filled with chilled water is nice, too!
6. Choose Lightweight, Light-Colored, Loose Fitting Clothing -  Trust me on this, darker colors get hotter faster and you certainly don't want to be caught wearing a wool blend in 90+ degree heat. Opt for breathable cotton fabrics that fit loosely and allow your body room to breathe and regulate its temperature.
7. Chill Your Lotions - You'll thank me for this one. There's nothing more soothing than smoothing on some nice cool sunscreen!
8. Wear a Hat - Don't wear just any hat though... I've found that a close-fitting baseball cap only makes me hotter. You want to find something with a wide enough brim that will protect your face, neck, and ears so you don't get a sunburn!
9. Pace Yourself - If you're working or playing outside in the heat and you're not used to it, make sure you limit your time outdoors. Later, as you become acclimated, you can increase your time in the heat.
10. Take a Drive - Even if you don't have A/C in your vehicle, roll your windows down and enjoy the breeze!
Read More: Why Does It Only Hail in Summer? And Other Weird Weather Facts
The Things Louisiana People Say They Fear the Most
While most people in the U.S. say they fear things like spiders, snakes and heights, Louisiana people are afraid of some completely different things. See this hilarious list of those uniquely Louisiana things.
Empty Storefronts In Mall St. Vincent
Here are some of the empty stores inside Shreveport's Mall St. Vincent
More From KISS Country 93.7