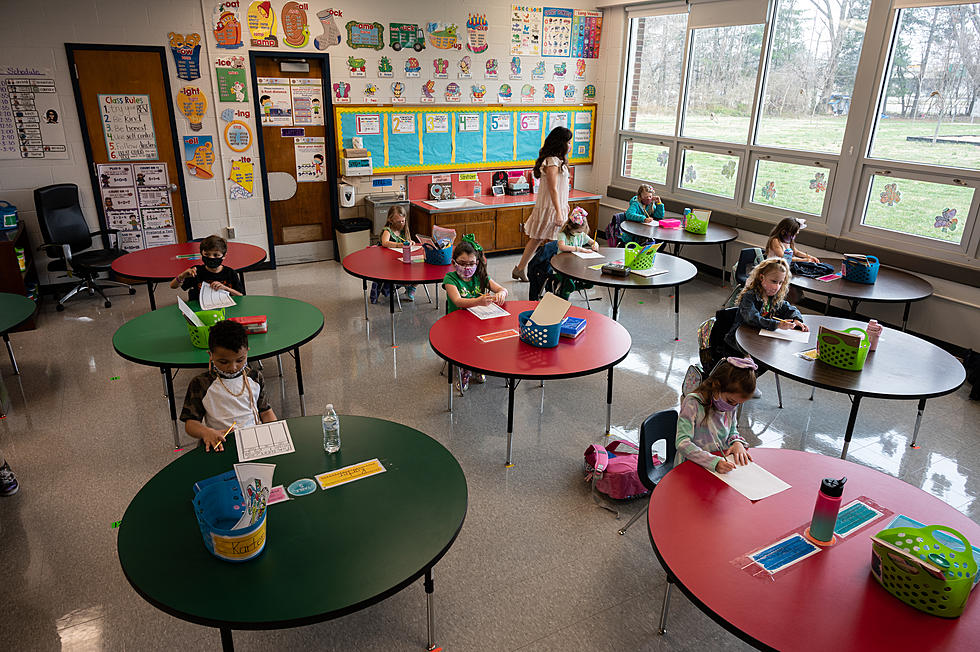 Caddo Parish Public Schools Release COVID Protocols For Upcoming Year
Getty Images
Caddo Parish Schools with Dr. Lamar Goree have announced the COVID-19 Protocols for the 2021-2022 school year. Caddo students, teachers, and parents have had many questions about the upcoming school year. Caddo Public Schools have laid out simple protocols to follow, as well as precautions being taken.
The plan, called Caddo Strong Start 2.0, was announced Tuesday by Dr. T. Lamar Goree, Superintendent of Caddo Schools. Developed using the latest guidance from the Centers for Disease Control and Prevention, the Louisiana Department of Health and the Louisiana Department of Education, Caddo Strong Start 2.0 outlines protocols and procedures the district will use in this school year to prevent the spread of the coronavirus. The plan also prioritizes teachers and students working daily in the classroom setting to support student achievement.
In alignment with state mandates as well as protocols from the CDC, all students and staff regardless of vaccination status will wear masks when inside a school or district site or when riding a school bus. Additionally, the district will limit nonessential visitors and encourage static groups of students whenever possible. These guidelines will be evaluated each nine weeks or as reasonable based on the latest information available on COVID-19 in Caddo Parish.
"Since the first days of this virus, we made the decision to trust the science and the science is overwhelmingly clear: children should be in school for in-person every school day," Dr. Goree said. "Caddo Strong Start 2.0 allows our district to provide high-quality instruction to our children while implementing proven mitigation efforts in alignment with the latest medical advice."
In addition to masks and limited individuals on campuses, enhanced cleaning efforts will continue across the district with electrostatic sprayers being used at all campus sites and on district buses. Disinfection of high-touch surfaces will be emphasized and teachers and staff will be provided with cleaning supplies for individual classrooms and office spaces.
Quarantining of close contacts exposed to COVID-19 will continue for students and staff who are unvaccinated. These quarantines will follow the latest CDC guidelines which allow for a return to school based on a testing or time-based strategy. Fully vaccinated students and staff, however, will not be required to quarantine this year if they are exposed to COVID-19.
"As a physician but also as a parent in looking at the plan Caddo has I can say it's right on target and I'm impressed," said Dr. John Vanchiere, Director of the COVID-19 Strike Team and lead investigator of the Pfizer vaccine study at LSU Health. "The mitigation strategies that are being put in place are designed to keep students and staff in school."
Both district staff and local medical experts have urged community members to become vaccinated. To support this effort, high school campuses across the district will host vaccination clinics in the coming weeks and clinics have been set up in alignment with employee training to ease accessibility.
Caddo Parish is expanding its mental health services and supports for both students and staff. For students, the district is launching a top-rated social-emotional curriculum designed to provide a foundation for safe and positive learning and enhance a students' ability to succeed in school and to be more confident in life. Further, the district is expanding access to mental health service providers and training counselors and staff with a clear focus on mental health and wellness.
Simultaneously, Caddo is also providing additional access to mental health and wellbeing programs to staff across the district. These services will be offered not only through the district's Employee Assistance Program but through a robust series of telehealth and application-based programs designed to support the overall wellbeing of staff members.
Top Stories in Shreveport for 2021
These are the biggest stories of the year in the Shreveport area. They are in no particular order.
25 Most Popular Movies That Filmed in Shreveport
Once upon at time, Shreveport was one of the hottest filming destinations in the country. We had everything from major blockbusters to low-budget indie films shot here. So, here are the most popular films shot right here in Shreveport
according to IMDB
. This contains only movies, not television shows. If we included TV shows, True Blood would be number 1 with a bullet.
More From KISS Country 93.7