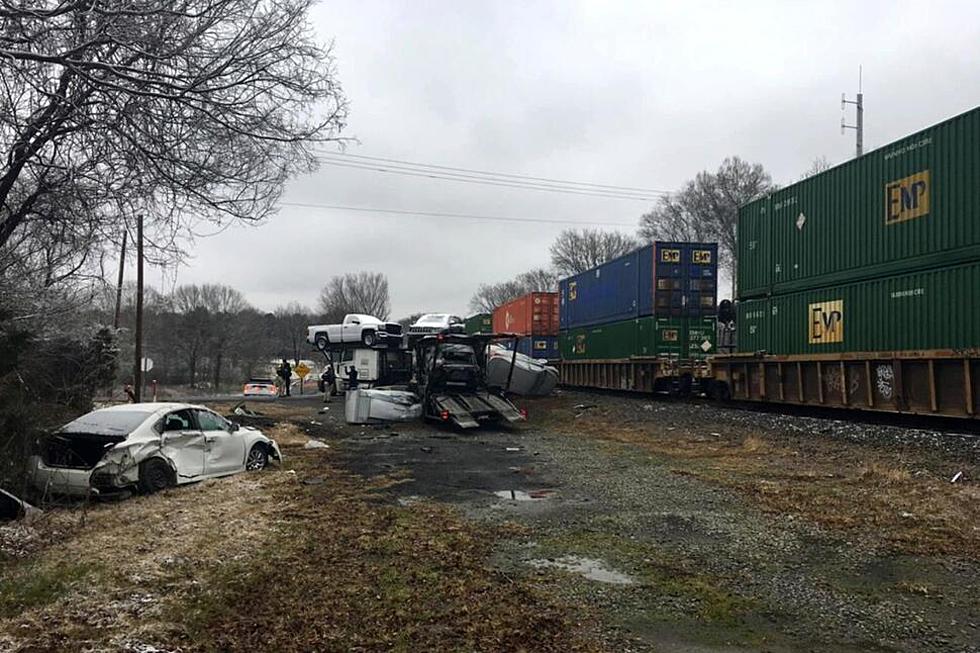 Train Smashes into Car Carrier in Caddo Parish Leaving 2 Injured
Caddo Parish Sheriff's Office
Trains are a force to be reckoned with.  According to the McNally Institute, the average train is hauling around 3,000 tons of cargo at around 30 to 50 miles an hour.  Sure, these behemoths slow down (or, are supposed to) in populated areas and through crossings - but that's an incredible amount of momentum.  That's why safety experts agree that automobile drivers have to be extra cautious when crossing railroad tracks.  When a train operator throws the brakes on, it takes about 18 football-field lengths to come to a stop.  That's a fact that one big-rig driver had to learn the hard way in Caddo Parish today (Friday, Feb. 4th).
According to KSLA, an 18-wheeler pulling a car-carrying trailer full of vehicles was travelling down highway 169 in Greenwood near McGee Road when it attempted to drive over the railroad tracks crossing the road.  According to the report, when the truck crossed the tracks, it was struck by a huge Union Pacific Railroad freight train loaded down with cargo.  That incident closed down 4.5 miles of the highway for about 5 hours as crews tried to pick up the pieces and remove the debris.
Two members of the train's crew were taken to a local hospital with injuries after the incident.  Miraculously, the truck's driver escaped completely unscathed - but the same can not be said about his cargo.  A press release from Caddo Parish Sheriff Steve Prator says that at least 3 vehicles were completely ejected from the trailer.
Top 10 Most Dangerous Towns in Louisiana
Louisiana has tons of awesome people and charm. Along with all of the good stuff, we've got some pretty dangerous parts. Below, you'll find the top 10 most dangerous towns in our state based on the likely hood a crime will affect the average citizen living there. Some of these entries are what you'd expect, but others were complete surprises to me. Watch your back as you travel through the Sportsman's Paradise - especially if you happen to pass through these towns.
Top 10 Most Likely Things to Kill You in Louisiana
Life is precious, but fragile. In an effort to help you live as long as possible, I've researched the most likely things to take you out if you live in the Sportsman's Paradise. With a little careful planning and this information, you could live a long and happy life in Louisiana.
25 Obscure Facts You Probably Don't Know About Louisiana
Louisiana is a weird and wild place. Some of our state's history is way stranger than fiction! Test yourself to see if you are a Bayou State expert!
More From KISS Country 93.7