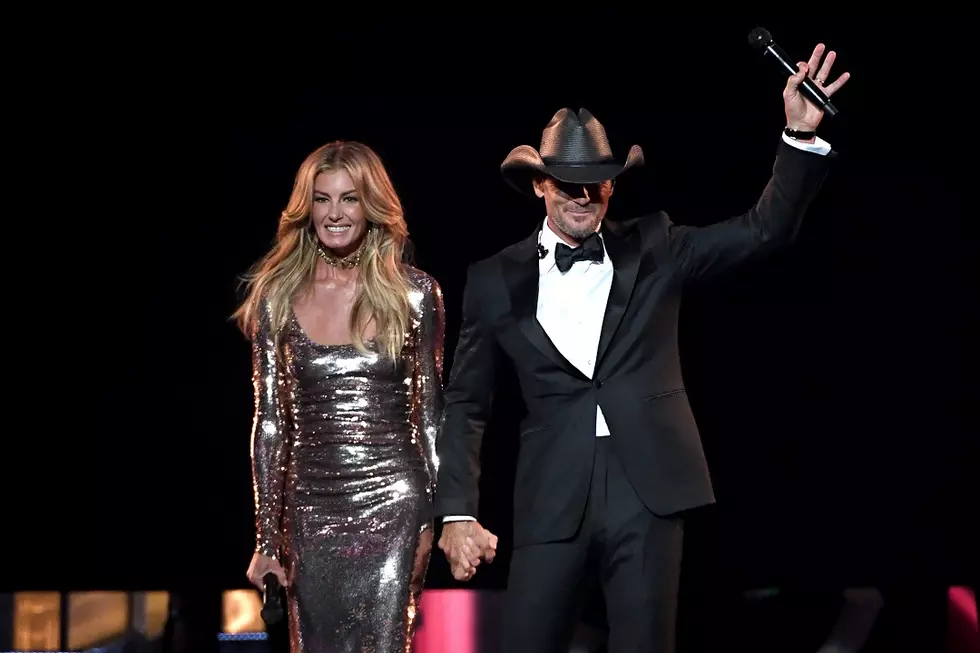 Go Behind the Scenes of Tim McGraw and Faith Hill's Soul2Soul Tour Opening Night
Ethan Miller, Getty Images
Tim McGraw and Faith Hill's highly anticipated 2017 Soul2Soul Tour kicked off on Friday night (April 7), at the Smoothie King Center in New Orleans, La., and throughout the night, the couple gave fans a peek behind the scenes as they prepared to take the stage together.
Both McGraw and Hill shared a number of behind-the-scenes photos to their Instagram accounts on Friday. McGraw began with a shot of the Smoothie King Center's marquee, proclaiming that the show was sold out.
As they prepared to take the stage for the Soul2Soul Tour's opening night, McGraw and Hill let fans see how they get ready for a show: They sit and relax. Hill shared a photo of herself curled up in a director's-style chair, while McGraw's picture showed him seated in a classy-looking suite, legs propped up on a column.
And after the show? Clearly, the couple was excited to have officially begun their co-headlining tour. Hill shared the below photo, which shows her and her husband with smiles on their faces, while McGraw posted the Boomerang that's at the top of this story.
McGraw and Hill celebrated their 20th wedding anniversary in October of 2016; during the same week, the pair received stars on the Music City Walk of Fame and hosted a sold-out "surprise" concert at the Ryman Auditorium to announce their 2017 Soul2Soul Tour. McGraw and Hill each signed separate deals with Sony in mid-February and released a new duet, "Speak to a Girl," in late March. In early January, it was announced that they will be the subjects of a Country Music Hall of Fame exhibit beginning in November.
The Soul2Soul Tour is scheduled to run through late October. Artists opening for McGraw and Hill during the trek include the Brothers Osborne, Seth Ennis, Chris Lane, Caitlyn Smith, Charlie Worsham, Lori McKenna, Rhiannon Giddens, Maggie Rose, Natalie Hemby, Brent Cobb, Eric Paslay, Brandy Clark, Cam, LoCash, Margo Price and more.
Faith Hill + Tim McGraw's Relationship in Pictures
Unforgettable Tim McGraw + Faith Hill Moments
More From KISS Country 93.7