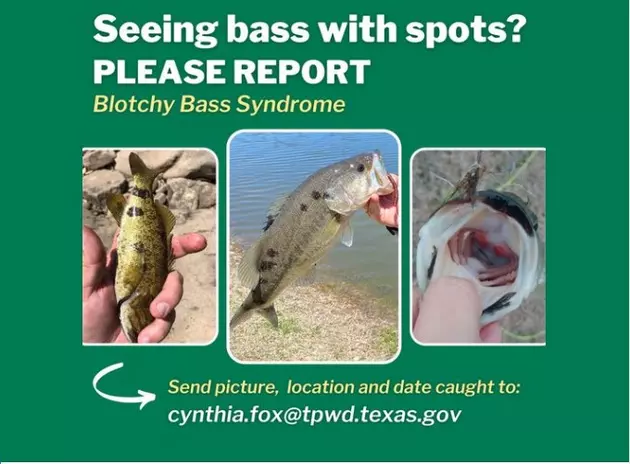 Texas Researchers Need Your Help to Study Infected Fish
From TPWD
In all likelihood, if you've spent much time bass fishing the waters of Louisiana or Texas, you've caught a bass with black spots like the ones above.
You probably even remarked that it must be "some type of birth defect" or at least talked about how pretty he was.
Well, Texas Parks and Wildlife Department now wants you to take it a step further and snap a photo of the next one of these "Blotchy Bass" you might catch and send the picture and report the location you caught it to cynthia.fox@tpwd.texas.gov.
Texas Parks and Wildlife researchers are collecting data on fish exhibiting this hyperpigmentation/melanosis, a.k.a Blotchy Bass Syndrome, in freshwater bass associated with a virus.
Exactly What Is "Blotchy Bass Syndrome"?
In an article from the Missouri Department of Conservation we find that bass and catfish are commonly affected with melanosis or Blotchy Bass Syndrome.  Melanosis is not an infection but an increase in the melanin in the skin.
What Causes "Blotchy Bass" or Melanosis?
MDC's findings indicate that melanosis is a genetic condition seen in mature fish following several years of sun exposure.  Though similar sounding, it's totally unrelated to "melanoma" which is skin cancer in a human, also related to increased exposure to the sun.
Are These Fish Safe For Humans and Pets to Consume?
Resoundingly, YES. It is widely known that the virus has never been identified in humans or common domestic pets.  The Missouri Department of Conservation, plainly states:
Humans cannot contract melanosis from fish.

Consume fish fillets like any other, by properly cleaning, preparing, and cooking the fish to 145°F.
As long as the fish are in good condition, they're safe to handle and eat if cooked properly.
However, TPWD would still like to conduct further studies on the virus and would like to see your pictures and information. Of course, this is specific to Texas waters, so for Louisiana anglers, this would apply to both Caddo Lake and Toledo Bend which sit on the state line.
Because they are so common, it's really not a case of "if" you catch one, but more of "when" you catch one, snap that pic and email it along with the location of your catch to cynthia.fox@tpwd.texas.gov
How Much Are Crawfish in Shreveport?
Crawfish season is already here and folks have been snapping up the mudbugs. We checked on the prices for you.
10 Movie Stars Who Got Caught Up In Sex Tape Scandals
More From KISS Country 93.7