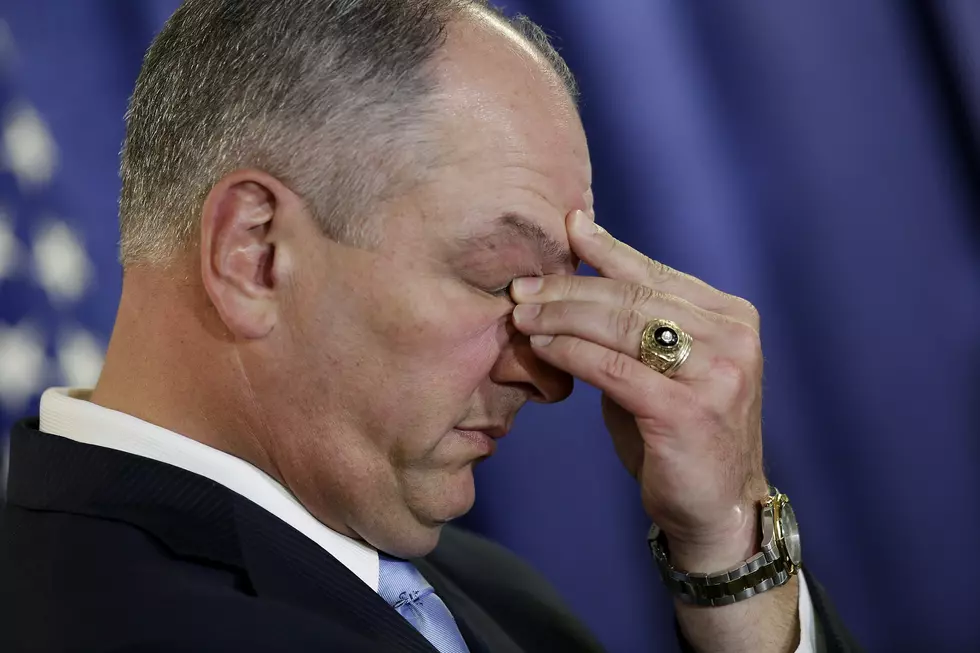 Petition Filed to Recall Louisiana Governor John Bel Edwards
Photo by Joshua Lott/Getty Images
Enter your number to get our free mobile app
Though it's highly unlikely they'll ever get the 600,000 signatures they need to move the recall further, two men from Eunice, La. have filed a petition to recall Louisiana Governor John Bel Edwards.  The grumblings statewide about the continuance of Phase 2 have grown louder by the day and now there are some angry enough to try and do something about it.
In an article first reported by the Louisiana Radio Network, we learn that Lee Joseph Vidrine and Michael Lyn Vidrine have filed the petition and now have only 180 days to get the needed signatures to trigger a recall vote.
Some say that's going to be an extremely tall order considering that in an approval poll of Edwards' job performance in April, 66 percent of respondents gave him a passing grade and only 18 percent disapproved of his job. In July, another poll suggests that 61 percent of respondents support the state's public health emergency actions.
An April poll of Edwards' job performance put him at 66 percent approval and only 18 percent disapproval. A July poll showed 61 percent support for the state's public health emergency actions.
Political analyst Bernie Pinsonat says recalling a Governor is a mammoth task made all the more unlikely by the current pandemic conditions.

"You need literally thousands of feet on the ground, you need energy from volunteers who want to get rid of the governor, you need hundreds of thousands if not millions of dollars," says Pinsonat.
Apparently, the task is so monumental that only one governor, California's Democratic Governor Gray Davis, was ever successfully recalled. That was the 2003 California gubernatorial recall that led to the election and his replacement with Republican Governor Arnold Schwarzenegger.
If 20 percent of registered voters sign the recall petition an election would be held to potentially replace Edwards. Pinsonat says there's no way that happens.

"It doesn't make any sense because there is no cry from anyone of any significant numbers who want to get rid of the Governor," says Pinsonat.
Read More: WHAT ARE THE MOST POPULAR COCKTAILS IN LOUISIANA?
More From KISS Country 93.7