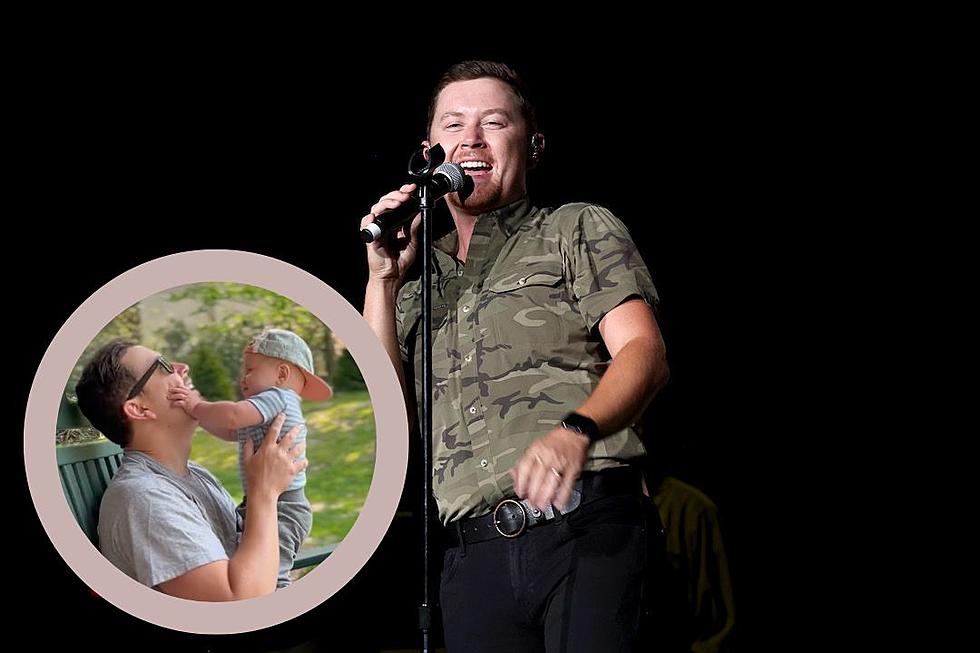 Scotty McCreery's Baby Boy Just Hit a Huge New Milestone [Watch]
Terry Wyatt, Getty Images/Facebook
Straight from babbling to...complete sentences?! Scotty McCreery's seven-month-old son Avery recently notched an impressive new milestone, and the singer's wife Gabi was there to capture the big moment on camera.
In the clip, the singer is sitting outdoors on a bench holding Avery on his lap, as the curious little boy reaches out to feel his dad's face and sunglasses. Then, little Avery says something that sounds a whole lot like, "What're you doing?"
McCreery's shocked, joyful expression is priceless, and Gabi also expresses her surprise with a laugh from behind the camera. "What're you doing?! What're you doing?" McCreery coos back to Avery. "Did you just repeat what I said? Sure sounded like it."
When he shared the moment on social media, McCreery revealed that the phrase marks Avery's first words. "Avery skipping over first words and going straight to sentences??" he wrote.
McCreery and Gabi welcomed Avery — who is their first child — in October 2022. Since then, the baby boy has been on the road with his country star dad, who even decked out a customized "baby bus" specifically tailored to suit an infant's needs.
The singer has also said that fatherhood is inspiring his music. McCreery, who has often written music inspired by his life, says that fans can expect to hear some "baby songs" on his next album.
"There's definitely some baby songs, as you can guess," the singer recently told Taste of Country about the next batch of songs, which he is currently writing.
"My music for sure has kind of leaned a little bit into that autobiographical stuff," he continues. "Something that I learned about music is how alike we all are, rather than different. When I talk about my life, I could be talking about thousands of other people's lives, and they relate to it, too. So there'll be a lot of life stuff. Just about not taking things for granted, and that's where I'm at right now — just appreciating this new stage of life, and new fatherhood."
Meet the Country Babies Born in 2022
Many of country music's biggest stars have welcomed new bundles of joy in 2022. Find out which artists have expanded their family or are expecting babies this year.
Top 10 Scotty McCreery Songs
More From KISS Country 93.7