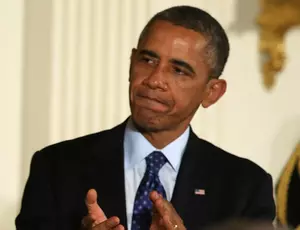 Governor Edwards Defends Obama's Absence During Louisiana Flooding
Mark Wilson/Getty Images
During this recent round of flooding in Louisiana many people have asked, "where has the national coverage of this disaster been"? It's true many national media outlets have gone on record as saying they basically whiffed when it came to getting the word out about the suffering that is currently going on in our state.
An even more vocal outcry from citizens of Louisiana has been, "Where is Barack Obama"? He is on vacation in Hawaii and doesn't appear to be giving up his R & R for something as meaningless as the suffering of the citizens of his country. For those of you who don't recognize sarcasm, that would be what that last statement was.
Louisiana Governor John Bel Edwards must agree with Mr. Obama's decision to stay on vacation. He is actually defending the Commander in Chief for not coming to survey the damage in person.
Quite frankly, that is not something that I want to go through right now, and so while the President is welcome to visit, I would just as soon he give us another week or two.
Edwards made those comments in a story published by the Louisiana Radio Network. 
Edwards went on to say that while Mr. Obama is not here physically he is quite aware of the situation in our state.
Within hours of me requesting a federal declaration, the President granted the declaration and called me to discuss it. Secondly I've been in contact with the White House just about every day.
I guess Governor Edwards feels that a phone call is better than an in person visit. It's true an in person visit would certainly put a strain on already over taxed resources. However, the President has certainly visited other disaster areas that have been stretched just as thin as our state has been.
However, a visit by the President brings national and international coverage of the disaster to the attention of the rest of the world. In the long run that might actually be a better thing than tying up traffic for a day.
I am not sure the folks who are hauling out damaged furniture and wet carpet really don't  have the  time or energy  to be concerned about Mr. Edwards or Mr. Obama at this juncture. We will just keep on keeping on while the politicians get their photo ops and stories straight.
More From KISS Country 93.7