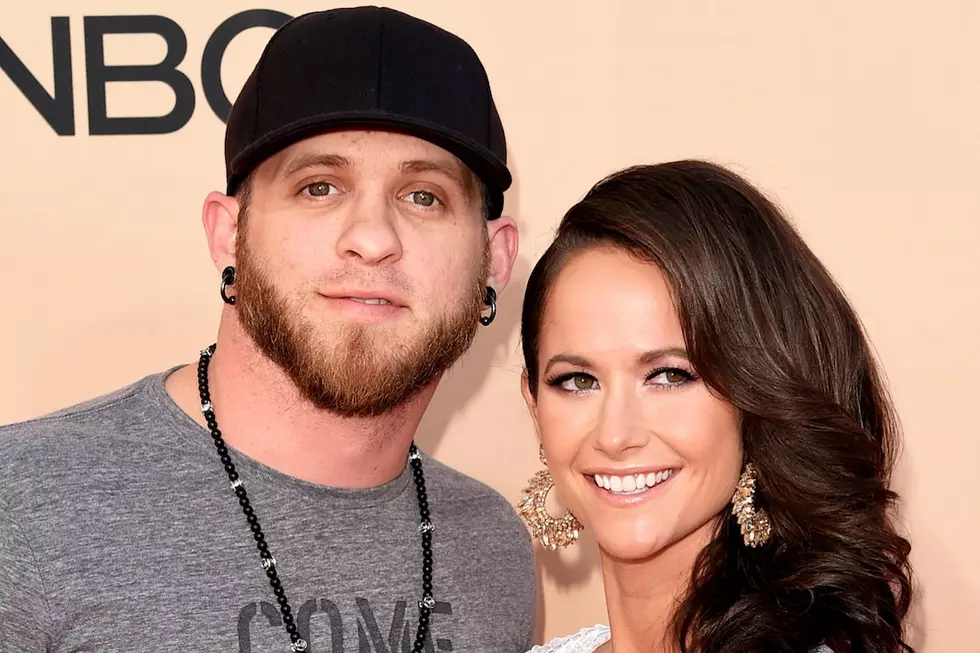 It's a Boy for Brantley Gilbert and Wife Amber!
Jason Merritt, Getty Images
Brantley Gilbert and wife Amber's first child will be a boy! The country star and his wife hosted a gender reveal party on Monday night (June 5), People reports, finding out their soon-to-arrive baby's sex through some target practice.
During Gilbert and Amber's gender reveal party, the singer-songwriter used a rifle to shoot at a target that was filled with blue-colored dust. When the bullet hit the target to create the big reveal, Gilbert says, "everybody was crying."
"I turned around, and I think that's when it hit me that everybody's wanted this for us as much as we did for so long," Gilbert says. "When the blue cloud went up, well, that made it even more real."
Gilbert, his wife and 40 of their close family and friends celebrated at the gender reveal party. The singer says his baby boy is "gonna have to get ready for a whole lot of love."
"Amber and I thought it was a little boy. I don't know how or why, but we just did," Gilbert confesses. "I'd have been happy with any baby, boy or girl. But there's something about the idea of a little guy … "
Country Music's Cutest Baby Bumps
Gilbert and Amber revealed that they are expecting in mid-May. They also shared, at that time, that they had been struggling to conceive since they got married in June of 2015. Gilbert says that he's become a bit of a softie since finding out the happy news.
"When we went to pick up the envelope [for the gender reveal], they didn't tell us, but the 3D picture of the baby popped up! ... And to see that little face -- and the hands up in front of it, little legs kicking. I wasn't prepared for that, and I just started crying," Gilbert says. "It's funny how this little baby does that to me."
Amber is Gilbert's hometown sweetheart, and the inspiration behind many of his songs. Before getting together for good, the couple dated but broke up because Gilbert was, in his own words, "acting like an idiot."
Baby Gilbert is due on Nov. 17. This summer, Gilbert is out on the road, on his 2017 The Devil Don't Sleep Tour.
Country Stars Who Have Had Babies in 2017
What Terrifies Brantley Gilbert? Having a Daughter
More From KISS Country 93.7