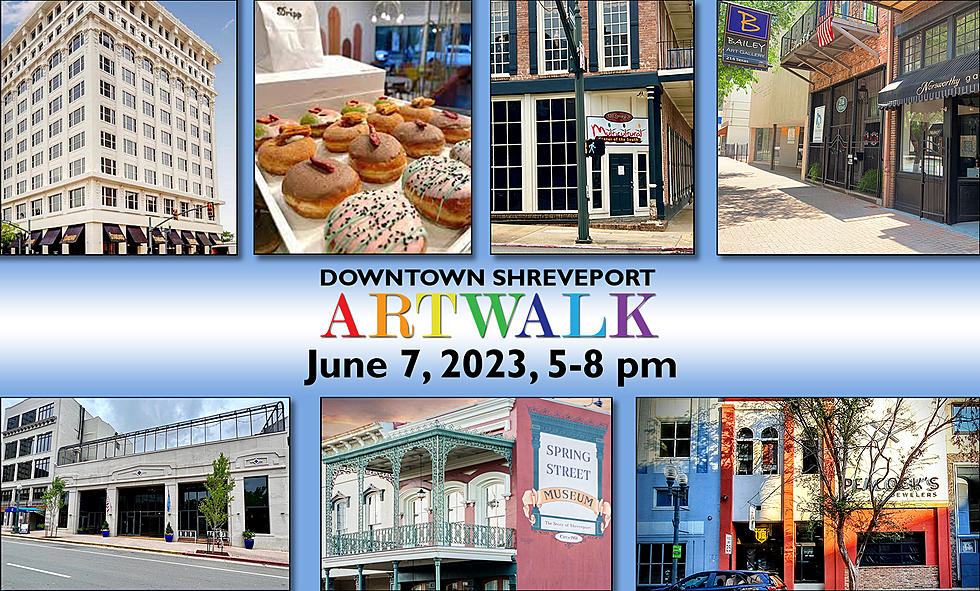 Artwalk Returns to Downtown Shreveport Wednesday
DDA
If you like exploring buildings in downtown Shreveport you might not normally get to see, and if you enjoy donuts, hot chicken sandwiches, Sangria specials, and lots of local art, then you definitely don't want to miss Artwalk this Wednesday evening in downtown Shreveport!
Artwalk features more than 20 artists at seven easy-to-access locations, all within strolling distance from each other.  You might start at Dripp Donuts- 421 Market Street, explore The Standard Apartments- 509 Market Street, Bailey Gallery- 214 Texas Street, Remington Hotel Suites and Spa- 220 Travis Street, The Spring Street Museum- 525 Spring Street, and the Multi-Cultural Center of the South, 520 Spring Street, and end your evening at The Noble Savage- 417 Texas Street.
Along the way, shop for handmade jewelry, paintings, one of a kind cards, woodworks, fascinator hats, garden art and more. Be sure to stop at each location to see what the artists there have created.
June artists include: Marijo Brown, Mila Paige Jewelry, Connie Helaire Eaton, Dawn Ash, Brittainy Williams, Debbie Arbs Rickards, Isabelle De Joya Vea, Moonlit Artisans, Jazmine Wright, Maggie Molisee, Randall Douglas Robertson Sr., Uriah Joseph Oxford, Nicola Medley Ballard & Qean L Ballard, Taylor Griffin, Yolanda Barnes, Icandy Jewels, Marsadez Allen, Tobby Smith, Syreeta Johnson, Aidan McFarland & Betsy Levels.
Enjoy other treats along your walk, including: sourdough donuts, coffe, and hot chicken sandwiches at Dripp Donuts, apartment tours beginning at 5 pm at The Standard, tall glasses of chilled & fruity Sangria at Remington Suites Hotel and Spa, the story of the recent Calanthean Temple archeological dig at Spring Street Museum, a tour of the ethnicities and backgrounds that make up Shreveport at the Multi Cultural Center, and live music, food and beverage to top your evening off at The Noble Savage.
All the locations are family friendly and the Artwalk is free to attend. Begin your artwalk at any of the locations on the route and go backwards, forwards or sideways, at your own pace. On street metered parking is free beginning at 5 pm. Lots of parking is available on Commerce Street and in the 200 block of Milam Street, too.
 For more information and a map of the artwalk locations, go to www.downtownshreveport.com/artwalk. See you at artwalk!
The Most Searched Craft Beer Brand in Louisiana
What Are the Top 10 Products Made in Louisiana?
How many of these Louisiana products do you use?
More From KISS Country 93.7