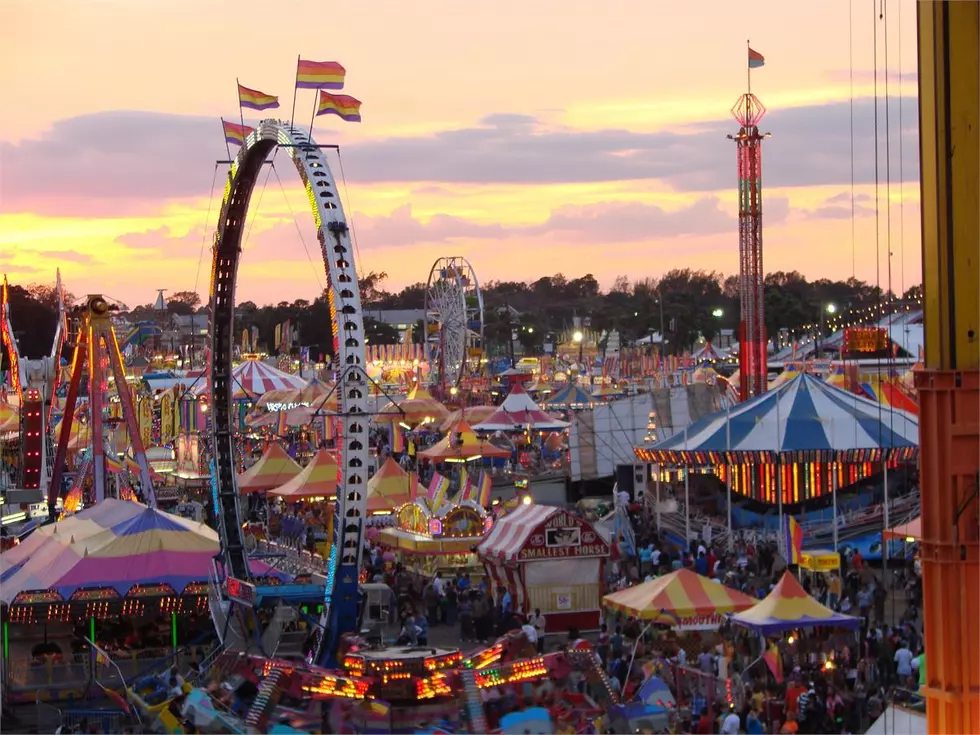 See this Week's Attractions at State Fair Springfest in Shreveport
It's the second week of the State Fair of Louisiana's Springfest in Shreveport, LA.
The State Fair of Louisiana's Springfest runs through Sunday, May 8, 2022, from 11 am to 10 pm each day.
Admission to State Fair Springfest is $12 and ride armbands are $35. However, Monday through Thursday, admission is only $5 with ride armbands for $25. Parking and admission are both free on weekdays until 3 pm.
There's a ton of amazing free entertainment that comes with your admission to Springfest. You'll be able to see a lot of the attractions we all look forward to during the fall run of the fair like the State Fair Zoo and the Hollywood Racing Pigs. You can also see street performers like Dallas the Fire Guy, Flo the Clown, Nick the Escape Artist, Wacky Chad, Darren Yong's Comedy Magic Show, Shel Higgins, Arty Dodger aka the Southern Gentleman Juggler, and Todd Various. There are also helicopter, pony, and camel rides available for a fee.
Also included in your admission is the chance to see some great musical acts. Here's the line-up on the State Fair of Louisiana Whataburger stage:
Monday, May 2nd: Total Choice at 7 pm
Tuesday, May 3rd: Titus & Company at 7 pm
Wednesday, May 4th: KANDU at 7 pm
Thursday, May 5th: Southern Roots at 7 pm
Friday, May 6th: Chris Ardoin and NuStep Zydeko at 6 pm, then Cupid and the Dance Party Express Band at 8 pm.
Saturday, May 7th: CJ Solar at 7 pm and Rodney Atkins at 8 pm.
Sunday, May 8th: Front Cover at 3 pm, Alter Ego at 4:30 pm, and Windstorm at 6:30 pm.
We can't wait to see you at State Fair Springest. We'll be the ones eating our weight in turkey legs, fried cheese curds, and funnel cakes;)
50+ Pictures of Shreveport's Abandoned Historic Fairgrounds Field
Before you know it, Shreveport's historic Fairgrounds Field will be will be exactly that - history. Once the legal wrangling is done, the proverbial endangered-bat-guano will hit the fan and the once glorious Ratchet-City cathedral to baseball will be demolished and gone.
Before it "bats" its final inning, let's take a final look at the glory that once was. I warn you though, it's kind of like seeing that super-hot girl from high school 20 years later - and time has not been kind.
These awesome pictures were provided by urban photographer extraordinaire Ron DeBello.
WARNING: Under no circumstances should you enter this property. By doing so you risk bodily harm and/or prosecution for trespassing on private property.
Here's the Top 10 Actors from Louisiana (#1 is from Bossier City)
These are the top ten actors who got their start in Louisiana according to
Stacker.com
from data compiled by
IMDB.com
.
The 10 Highest Earning Zip Codes in the Shreveport-Bossier Area
These are the 10 highest-earning zip codes in the Shreveport-Bossier area according to Stacker.com.
More From KISS Country 93.7