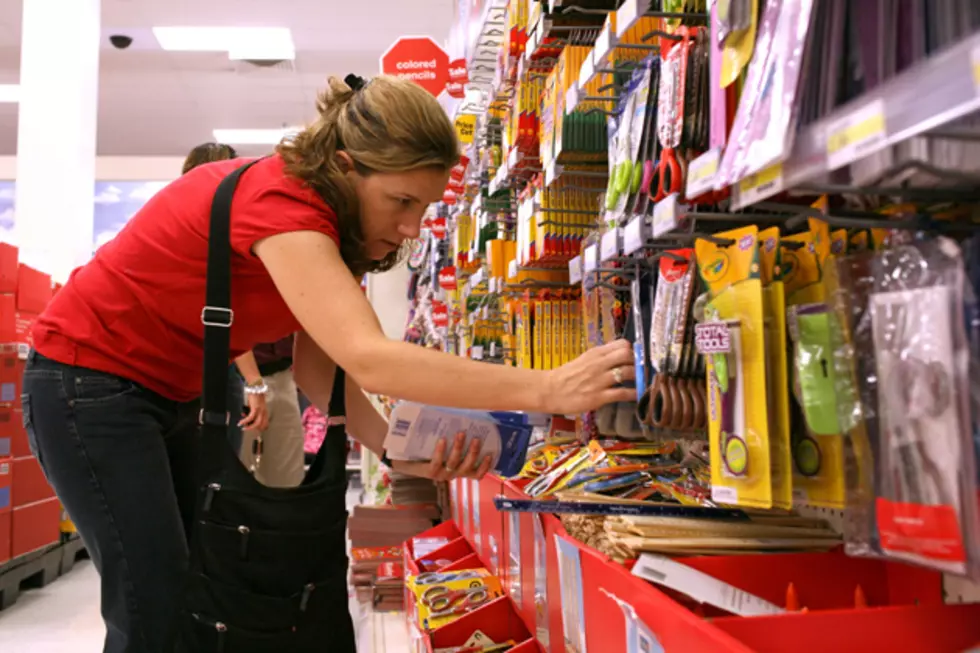 School Supply Lists; The Difference Between Then and Now
Justin Sullivan, Getty Images
Enter your number to get our free mobile app
Desoto Parish students have been back in school for over a week now. Several private schools also opened in the past week or so, but several other parishes have yet to ring those bells.
In fact, Bossier Parish's first day of the Fall Semester is exactly one week away, so lots of parents are trying to get a jump start on things.  Course, with this crazy pandemic, things are much different this year, but nonetheless, if the kids will be attending classes on campus, they'll need school uniforms and their school supplies.
When I researched the school supply list for first graders at a local Bossier Parish Elementary School, here's what I found:
FIRST GRADE
$20.00 School and Technology Fees
1- Backpack (no wheels)
1- pair of headphones (no earbuds)
1- 1 inch white, clear view 3-ring binder with pockets
1- zippered pencil pouch for 3-ring binder
1- small package of sheet protectors
48- pre sharpened yellow #2 pencils
4- boxes of 24 count Crayola Crayons
1- pack of cap erasers
2- yellow highlighters
1- 10 count classic markers
8- black dry erase markers
1- pair of 5" Fiskars blunt blade scissors
8- Elmer's glue sticks
1- Mead K-2 Primary Journal (can usually find at Office Depot, Amazon, or Wal-mart)
1- composition notebook
1- pack of construction paper
1- plastic school box
1- large box of Kleenex
1- large roll paper towels
1- container of Play-Doh (any color)
1- watercolors set(Crayola Brand no neon colors)
2- Clorox Disinfecting Wipes
1- Bottle of hand sanitizer
4- PLASTIC folders with brads and pockets (1 red, 1 yellow, 1 green, 1 blue)
BOYS ONLY: 1 Gallon size Ziploc Bags, 1 Quart Size Ziploc Bags
GIRLS ONLY: Baby wipes 1 pkg. white card stock 1- Labeled Ziploc bag with a change of uniform clothes in backpack. (including underwear & socks)
I guess I wasn't shocked at what I saw. Everything looked reasonable for the world we live in today, but this list looks so different than when I was a student back in the 1970's.
My list included things like spiral notebooks, a three-ring binder, Elmer's paste, loose leaf notebook paper, #2 pencils, index cards and as I got older the list included things like compass and protractor, and a slide rule. (Yeah, I'm that old)
I guess the biggest difference in the past 50 years is the sheer cost of the supplies.  My Mom could get everything we needed at the old Atlantic Spartan for $10 a kid. And looking at today's lists, I'm surprised that most people don't have to finance what's needed.
Course it's really cyclical. I mean, when my Dad looked at our supply lists he'd shake his head and say, "I still don't know what you need all this stuff for. When I was a kid we only needed a Big Chief notebook and a #2 pencil and we were good to go."
So, the moral to the story is, change is inevitable. Your kids will one day complain about the cost of their kids' supplies, but at the same time, they'll fondly reflect on how "easy" life was when all they needed was hand sanitizer and Clorox disinfecting wipes....and all that other stuff.
MORE: See 30 toys that every '90s kid wanted
More From KISS Country 93.7