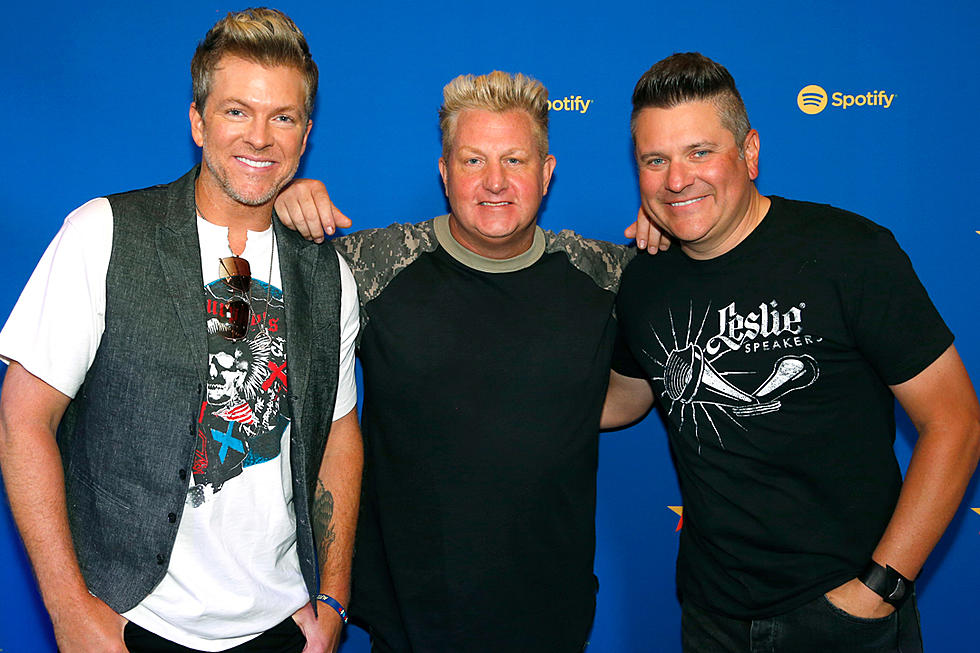 Rascal Flatts Will Make Music 'Until One of Us Kicks the Bucket'
Frederick Breeden, Getty Images
Jay DeMarcus of Rascal Flatts insists the trio will be making music together "until one of us kicks the bucket."
He shared that sentiment in a recent interview with that Boot that explores Rascal Flatts' impressive tenure as country music elite.
"I don't think we'll ever be one of those bands that can't play and [doesn't] make music together somehow," DeMarcus adds, "And it may be years from now, when we're just doing the Opry a few times a year and [we're] old men sitting on our porch, sitting around playing with guitars."
Rascal Flatts Had One of Country's Best-Ever Tour Pranks
The trio released their debut eponymous album in 2000 with now recognizable classics such as "Prayin' for Daylight" and have released 15-plus albums since, their latest being 2017's Back to Us.
"To be here this many years later and still be relevant, still creating music that people wanna hear ... it's phenomenal," Rascal Flatts' Joe Don Rooney tells the Boot. "It's just a God thing, really. ... "I mean, [the band's current Summer Playlist Tour is] selling out everywhere. Things just couldn't be any better."
Of course, Rascal Flatts have continued to evolve to remain relevant, fluctuating with the pop-country trends that have exploded with country music in the last decade and adapting their live show to what fans want to see in the modern age.
However, the Boot reports that during a tour date opening for the Rolling Stones, Rascal Flatts lead singer Gary LeVox realized the band's high-powered, physically demanding show may not be in his cards as an older performer.
"I remember saying, 'God, can you imagine being 70 and still doing this?'" Rooney recalls. "And [Gary] goes, 'No, I can't. ... You've just gotta give God all the glory for giving us a platform to still continue to make music and do what we love to do and be able to touch peoples' hearts. We'll be here as long as they'll have us."
15 Country Stars Who Have Gone Above and Beyond for Charity:
More From KISS Country 93.7