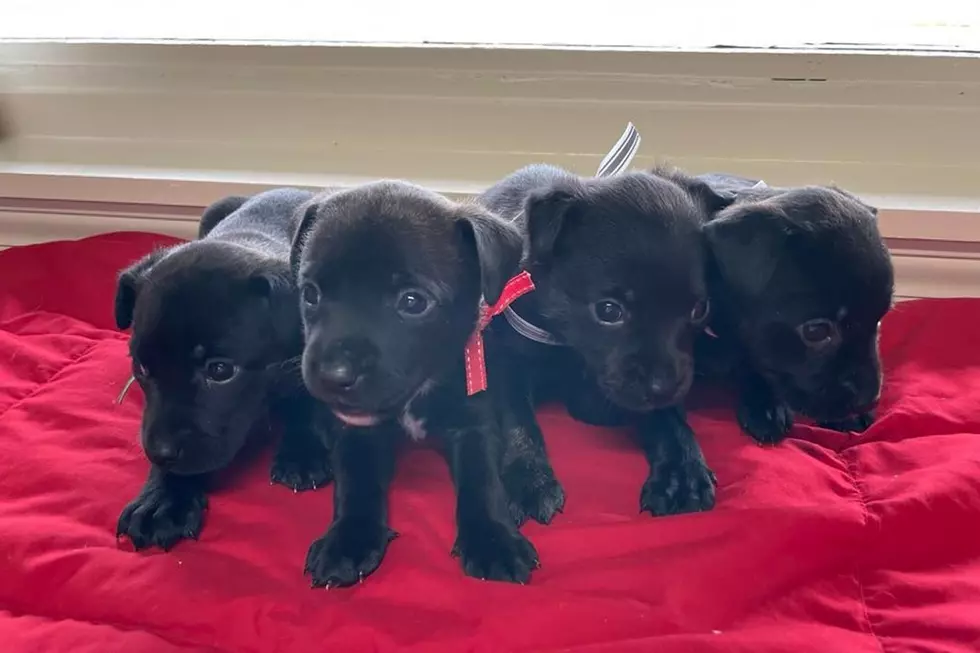 Meet the Most Adorable Radio Pups Looking for Homes in Shreveport
Krystal Montez
A couple of months ago a momma dog and her companion were dumped on Westport road in Shreveport. They made their way along I-20 and by some miracle, these dogs weren't hit.
One of Our Staff Members Took in the Dog Pair and Found Out the Female Dog Was Very Pregnant.
What started off as a "Let me take these dogs in for the week until we figure out what's going to happen with the dogs" turned into a "This momma dog is going to give birth in 7 to 10 days. We have puppies on the way."
2 Puppies Have Already Been Spoken For, However, There are 4 Pups That Desperately Need Homes.
We decided to name them after the radio stations in the building and we came up with the names Kiss, K-Ruff, Highway, and Keel.
If you are interested in adopting any of these precious pups they will be ready for their homes on September 22nd. They will have their first round of puppy shots and it's a $120 adoption fee to cover all of their expenses. You must have a vet reference or good standing with an animal rescue. We want to make sure these pups end up in the best homes as we have grown to love these little dudes already.
Meet Kiss, he's the biggest one and his appetite is no joke. He is a hungry boy. 
KEEL is a shy boy and doesn't like the camera, but he loves to snuggle.
K-Ruff is interested in everything, he might give you a run for your money he wants to know what's going on. A curious one for sure. 
Highway is the shy one of the bunch, he just wants to hide under a blank and get all the cuddles.
To apply to adopt these sweet pups or if you have any questions email jackie.whaley@townsquaremedia.com with the subject "Radio Pups".
Check out these 50 fascinating facts about dogs:
LOOK: Here Are 30 Foods That Are Poisonous to Dogs
To prepare yourself for a potential incident, always keep your vet's phone number handy, along with an after-hours clinic you can call in an emergency. The ASPCA Animal Poison Control Center also has a hotline you can call at (888) 426-4435 for advice.
Even with all of these resources, however, the best cure for food poisoning is preventing it in the first place. To give you an idea of what human foods can be dangerous, Stacker has put together a slideshow of 30 common foods to avoid. Take a look to see if there are any that surprise you.
RANKED: Here Are the 63 Smartest Dog Breeds
Does your loyal pup's breed make the list? Read on to see if you'll be bragging to the neighbors about your dog's intellectual prowess the next time you take your fur baby out for a walk. Don't worry: Even if your dog's breed doesn't land on the list, that doesn't mean he's not a good boy--some traits simply can't be measured.
More From KISS Country 93.7