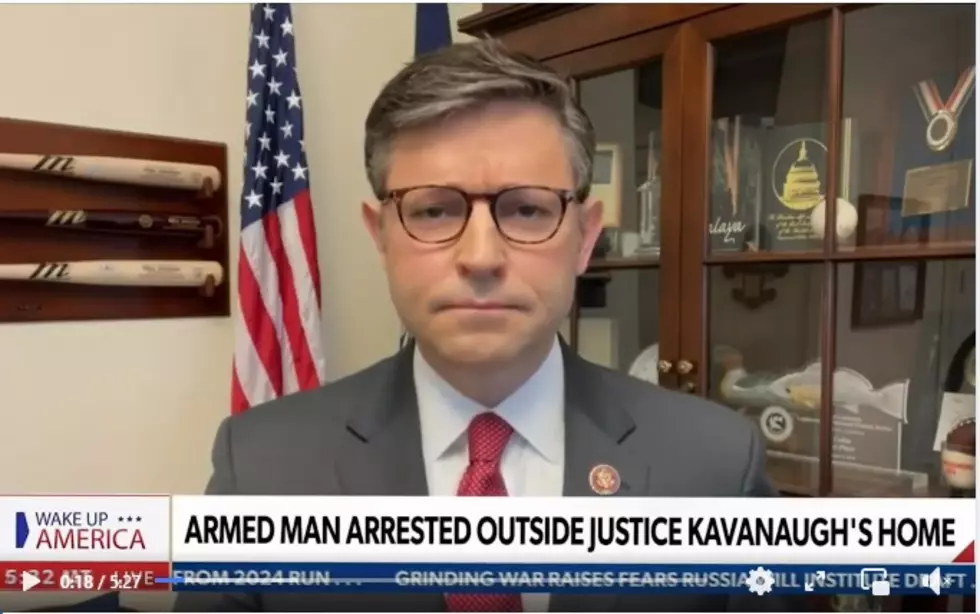 Louisiana Congressman Outraged at House Leaders
Mike Johnson courtesy of Facebook
An arrest has been made of a man carrying a backpack containing a gun, magazines of ammo, a tactical knife, pepper spray, a hammer, a screwdriver, duct tape, zip ties and burglary tools outside the private home of US Supreme Court Justice Brett Kavanaugh.
Why Did He Plan the Attack?
The suspect, allegedly told police he "wanted to kill the Supreme Court Justice."  The suspect was apparently upset after the Supreme Court draft was released that indicated the Court was about to overturn the controversial Roe v. Wade decision on abortion.  The suspect was also allegedly upset at the recent upturn in mass shootings.  Congressman Mike Johnson, R Louisiana, was recently on Newsmax talking about the arrest.
Picketing the homes of justices is illegal, and is now endangering the lives of our justices, and yet the DOJ and speaker Pelosi refuse to act.  Every American should be outraged by this.
But not only is the left refusing to act, they are outwardly encouraging their supporters to protest... to disrupt... to cause chaos.
Title 18 Section 1507 of the US Code, which was enacted in 1950, states:
Whoever, with the intent of interfering with, obstructing, or impeding the administration of justice, or with the intent of influencing any judge, juror, witness, or court officer, in the discharge of his duty, pickets or parades in or near a building housing a court of the United States, or in or near a building or residence occupied or used by such judge, juror, witness, or court officer, or with such intent uses any sound-truck or similar device or resorts to any other demonstration in or near any such building or residence, shall be fined under this title or imprisoned not more than one year, or both.

Nothing in this section shall interfere with or prevent the exercise by any court of the United States of its power to punish for contempt.
As to the man arrested with the intent on murdering a sitting US Supreme Court Justice... The left is directly responsible for this type of behavior.  They have a long history of fomenting insurrection.
When talking about Trump's border policy, House Speaker Nancy Pelosi said:
I don't know why there aren't uprisings all over the country, maybe there will be...
Fomenting insurrection...
In 2018, after a Virginia restaurant owner refused to serve then White House Press Secretary Sarah Huckabee Sanders,  Maxine Waters told her supporters:
If you see anybody from that cabinet in a restaurant, in a department store, at a gasoline station, you get out and create a crowd, and you push back on them, and you tell them they are not welcome anymore, anywhere.
She is blatantly encouraging attacks on sitting cabinet members.
Fomenting insurrection...
In 2020, when speaking to leftist talk show host Stephen Colbert about the racial justice protests, the Vice President of the United States, Kamala Harris stated:
Protesters should not let up
Fomenting insurrection...
The partisanship of the left is nothing new, but it has now reached a point where they not only don't condemn violent acts, they are openly encouraging them.  And when that encouragement fosters violent action, like this man who was intent on murdering a sitting US Supreme Court justice, the left won't even support legislation to provide additional security to the justices or their families.
America's Most Conservative Presidents Ever
Missing Children from Louisiana
The National Center for Missing and Exploited Children asks for help from the public to find these missing Louisiana children.
More From KISS Country 93.7