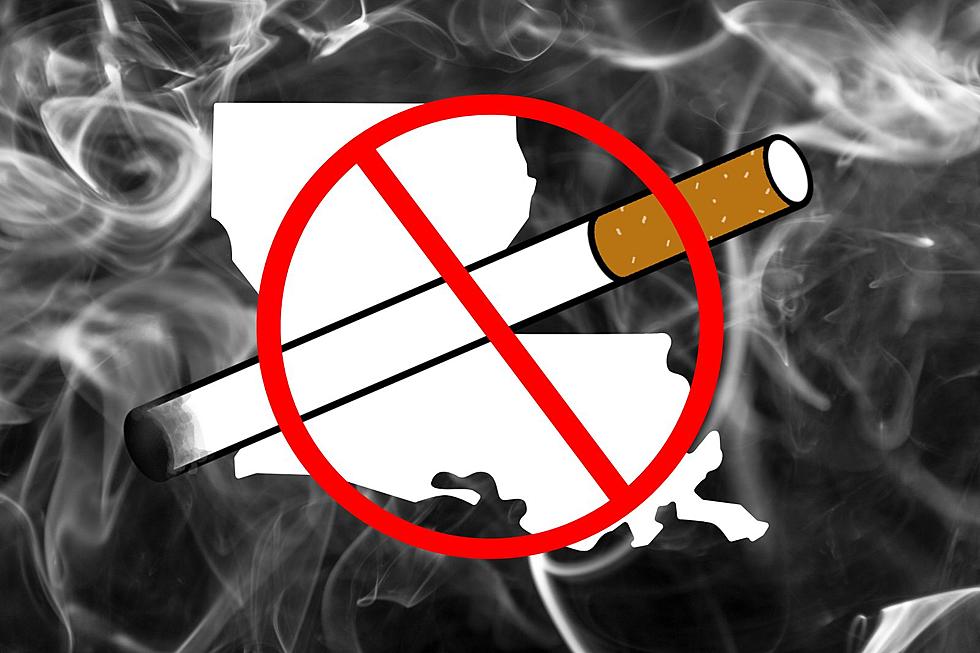 Now There's No Excuse to Not Stop Smoking in Louisiana
Canva
Governor John Bel Edwards has just signed a bill into law that will make it easier for smokers to stop smoking cigarettes or using tobacco for good! Quitting tobacco is hard, but not quitting it is worse.
Quitting smoking is the hardest thing I've ever done.
We all know that smoking can cost you your life, but what else will it cost you? For a long time, it cost me my self-respect! I finally quit after decades of smoking last summer using Chantix. I refuse to let these damn things rule my life, especially while watching my ex-husband battle cancer.
How expensive is it to be a smoker in Louisiana?
Did you know that smoking costs the average Louisiana resident $2,346,295 over a lifetime? When I think of all of the money I've wasted over the years, it makes me SICK! WalletHub.com estimates that there are 34.2 million tobacco users in the United States. Can you imagine what those costs are on an annual basis for the entire country? Insane! The metrics were derived by looking at the out-of-pocket cost of smoking, loss of financial opportunities, the cost of health care, the cost of lost income, etc... With all of that in mind, here are WalletHub.com's conclusions regarding the real cost of smoking in Louisiana.
The Financial Cost of Smoking in Louisiana (1=Lowest, 25=Avg.):

Out-of-Pocket Cost Per Smoker – $122,640 (Rank: 13th)
Financial-Opportunity Cost Per Smoker – $1,641,430 (Rank: 13th)
Health-Care Cost Per Smoker – $127,938 (Rank: 4

th

)
Income Loss Per Smoker – $438,912 (Rank: 4th)
Other Costs Per Smoker – $15,375 (Rank: 37

th

)
Total Cost Over Lifetime Per Smoker: $2,346,295
Total Cost per Year Per Smoker: $48,881
How has Louisiana made it easier for folks to stop smoking?
House Bill 578, authored by Shreveport's own Cedric Glover, says that any health care plan administered in the state must provide at least six months of smoking cessation benefits. All the insured person needs is a recommendation from their physician. This applies to both private health insurance and Medicaid. It's important to note that under the new law, patients will not be subject to deductibles, co-insurance, co-payments, or any other out-of-pocket payments. Benefits provided will include nicotine replacement products, such as nicotine patches, gum, lozenges and nasal spray, prescription medication, and counseling. While my insurance provider covered the cost of Chantix for me, many didn't previously.  If you decide to quit, make sure to share this with your physician at your next appointment. If they're like my doctor, they'll do everything in their power to help you quit! The new law goes into effect on August 1, 2023.
Sadly, the American Lung Association reports that Louisiana has the 11th highest percentage among U.S. states of adults who smoke. If you're a Louisiana resident and you'd like help to quit smoking, visit QuitWithUsLA.com. Good luck, I'm rooting for you!
Top 10 Most Likely Things to Kill You in Louisiana
After researching data from previous years, these are the most likely things to take you out if you live in the Sportsman's Paradise. With a little careful planning and this information, you could live a long and happy life in Louisiana.
Check Out the Top 10 Trashiest Towns in Louisiana
Scariest Sounding Town Names In Louisiana
More From KISS Country 93.7