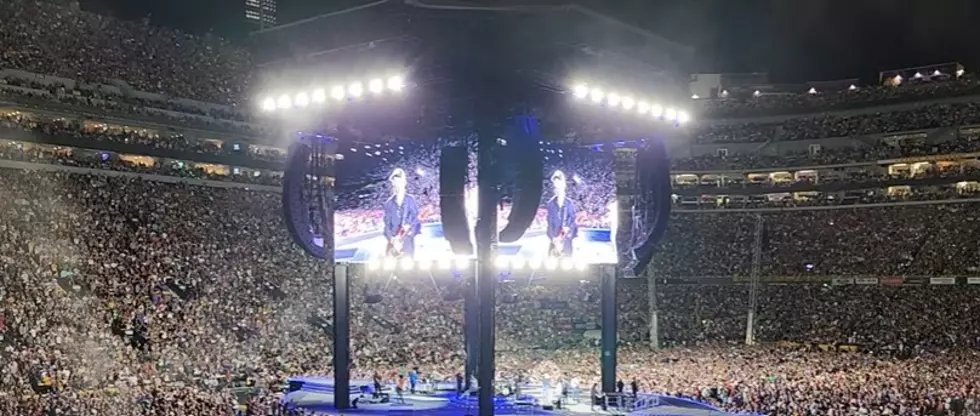 Watch Garth Brooks Honor Shreveport Musician
YouTube
You have probably seen the performance of Garth Brooks "Callin' Baton Rouge" at LSU Tiger Stadium dozens of times on social media over the weekend, but you might not realize the country legend honored one of our own before belting out this massive hit.
Brooks introduced Gordon Kennedy to the crowd in Baton Rouge. Kennedy grew up in Nashville, but was born in Shreveport but the family moved to Nashville to pursue music dreams. His Dad, Jerry Kennedy played guitar in the house band at the "Louisiana Hayride". His Mom, Linda Brannon was a singer on the Hayride. His Dad, eventually moved to the business side, becoming CEO of Mercury Records for nearly 30 years.
Kennedy has a close relationship with Brooks. He has written or co-written at least 15 songs recorded by Garth.
What Is Gordon Kennedy Most Famous For?
But Kennedy's most famous song has to be "Change the World". He won a Grammy for Song of the Year in 1996 for this amazingly touching song. It was recorded by Eric Clapton for the huge hit. But it was first recorded in 1995 by Wynonna Judd.
Clapton's version was a monster hit and spent 81 weeks on the Billboard charts.
Clapton and Babyface Edmonds performed the song at Grammy's in 1996 where the song won "Record of the Year", "Song of the Year", and "Best male Pop Vocal Performance"
Kennedy probably loved playing in Tiger Stadium this weekend. He was an outstanding athlete himself back in the day. He played football, basketball and ran track while in high school and was even voted "most athletic student" in his senior year.
Players Born In The Shreveport Area Picked In The NFL Draft
These players were born in the Shreveport area, but did not necessarily play high school or college football in the area. This also doesn't include players born in another area, who moved to Shreveport later in life (Dak Prescott, Trent Taylor)
Top 10 Rides You Will Find at the State Fair of Louisiana
I've included the adult rides on this list. The State Fair will also have an extensive area for kiddie rides.
More From KISS Country 93.7