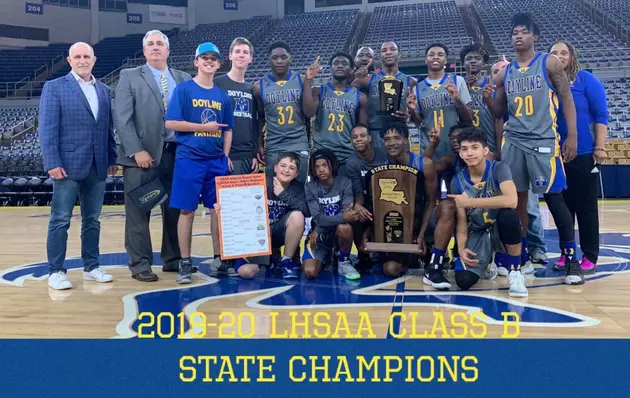 Doyline Wins First State Championship in Over 50 Years
From Doyline Panthers Facebook Page
The Doyline Panthers have done it!  They are the 2019-20 Class-B Louisiana State High School Boys Basketball Champs!  It was the perfect storybook ending to a season filled with the thrill of victory!
Doyline was on a 29 game winning streak when they entered Burton Coliseum in Lake Charles this past Saturday for the Class-B State Championship.   But this game felt different than most as it was played in front of only essential staff after the LHSAA disallowed fans from entering due to the COVID-19 outbreak.
However, the eeriness of "no fans" didn't phase Doyline or their phenomenal play.  When the dust settled after the final buzzer, Doyline emerged victorius over Simsboro  85-83, and in this upset, Jamari Markray of Doyline was named MVP of the tournament!
The last time Doyline won the State Title, Lyndon B. Johnson was President.  It was 1967.  And now, 53 years later, the boys have a new banner to hang in the gym!
According to Head Coach Michael Normand, speaking to The Minden Press Herald, "These guys were on cloud nine. The fact that they brought this home is a testament to our kids and their grit."  "We showed a lot of grit tonight against a very good Simsboro team."
More From KISS Country 93.7