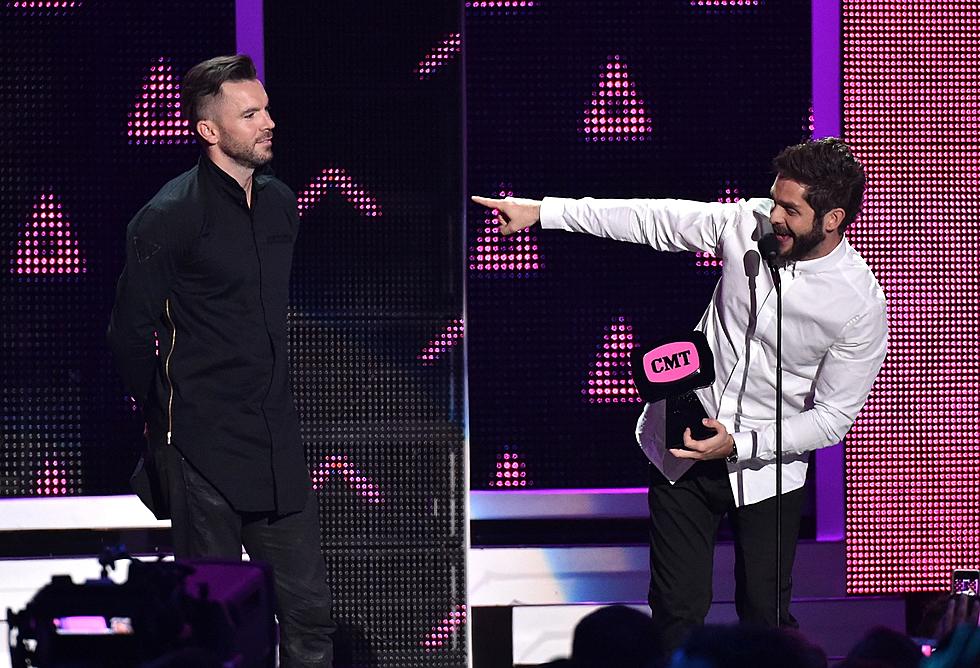 Everything You Need to Know About the 2017 CMT Music Awards
Mike Coppola, Getty Images for CMT
The 2017 CMT Music Awards are coming up on June 7 -- just before the official start of the 2017 CMA Music Festival! -- and the annual event is sure to be an epic country music party. To make sure you don't miss any of the night's big moments, The Boot has rounded up all of the details about the fan-voted awards show.
Who's presenting, performing and hosting? Who's up for honors? Read on for all of the answers to your questions about the 2017 CMT Music Awards!
When Are the 2017 CMT Music Awards, and How Can I Watch the Show?
The 2017 CMT Music Awards will air live from Nashville's Music City Center at 8PM ET on June 7. They will (obviously) be broadcast on CMT, and iHeartMedia's country stations will simulcast the ceremony.
The CMT Music Awards generally take place at Music City's Bridgestone Arena; however, due to the Nashville Predators Stanley Cup Playoffs run, event organizers announced on May 8 that the ceremony would change locations for 2017.
How Can I Watch the 2017 CMT Music Awards Red Carpet?
A 2017 CMT Music Awards red carpet special will stream live on CMT's Facebook page at 7PM ET on June 7. The event will be hosted by CMT's Cody Alan and Katie Cook.
Who's Hosting the 2017 CMT Music Awards?
Taking over for sportscaster and television personality Erin Andrews and Houston Texans defensive end JJ Watt, who co-hosted the 2016 CMT Music Awards (Andrews also co-hosted in 2015), will be Charles Esten, aka Deacon Claybourne from Nashville.
"There is no other show quite like the CMT Music Awards ..." Esten said when CMT revealed on May 1 that he would be hosting this year's show. "Besides always being flat-out fun, it's also always been a stage for magical musical moments — and a place where some of country's biggest legends have been made. I'm thrilled and honored to get to host this great event."
Who's Nominated at the 2017 CMT Music Awards?
CMT announced nominations for the 2017 CMT Music Awards on May 9. Kelsea Ballerini, Keith Urban, Florida Georgia Line and Thomas Rhett are among the many artists with nominations in multiple categories at the upcoming awards show. A complete list of this year's nominees is available here.
Who's Going to Win at the 2017 CMT Music Awards?
That's up to the fans! Voting for the 2017 CMT Music Awards is now closed in all categories except Social Superstar, but fans were able to vote for their choices for about a month, from May 9 through through June 5, on CMT.com.
For the still-open Social Superstar category, fans can vote on Twitter and Instagram using the hashtags #CMTAwards and #VoteBrett, #VoteJake, #VoteKeith, #VoteKelsea, #VoteLauren or #VoteThomas. Fans can vote for the Social Superstar category 10 times per valid Twitter handle and 10 times per valid Instagram account per day through June 6; on June 7, that number jumps to 50 votes per handle or account per day.
On the night of the awards show, The Boot will share the list of winners, updated as they are announced.
Who's Performing at the 2017 CMT Music Awards?
On May 1, CMT announced that Blake Shelton, Brett Eldredge, Luke Bryan, Miranda Lambert and Thomas Rhett will all be performing during the 2017 CMT Music Awards. On May 24, the network revealed that Florida Georgia Line and the Chainsmokers; Keith Urban and Carrie Underwood; and Crossroads collaborators Lady Antebellum and Earth, Wind & Fire will perform together during this year's awards show as well; although CMT did not provide further details, it's likely that FGL and the Chainsmokers will perform their song "Last Day Alive," and that Urban and Underwood will sing their single "The Fighter."
Little Big Town and Kelsea Ballerini were revealed as 2017 CMT Music Awards performers on May 31. On June 5, CMT revealed a slew of new performers: Bryan with Jason Derulo, the Brothers Osborne and Peter Frampton, Brett Young, Jon Pardi, Lauren Alaina, Midland and Chris Lane.
The 2017 CMT Music Awards will also include a tribute to the late Gregg Allman, who died on May 27; taking part in the special performance will be Jason Aldean, Lady A's Charles Kelley, Darius Rucker, Derek Trucks and more. CMT President Brian Philips says that the tribute performance is coming together because, following Allman's death, artists began inquiring about honoring him during the awards show.
The Boot will keep a list of performances updated throughout the night.
Who's Presenting at the 2017 CMT Music Awards?
Actors Ashton Kutcher, Clare Bowen, Danny Masterson, Jada Pinkett Smith, Johnny Galecki, Josh Henderson, Katherine Heigl and Rachel Bilson are all among the presenters for the 2017 CMT Music Awards. Additionally, TV personalities Hoda Kotb and Kathie Lee Gifford, radio personality Bobby Bones and CMT's Cody Alan and Katie Cook will be presenting awards, as will Dustin Lynch, RaeLynn and Reba McEntire.
Who Will Be Attending the 2017 CMT Music Awards?
All of the performers and presenters, for sure — and, since the event is in Nashville the night before the 2017 CMA Music Festival officially begins, there's a good chance that most of Music City will turn up.
See Photos From Rehearsals for the 2017 CMT Music Awards
More From KISS Country 93.7