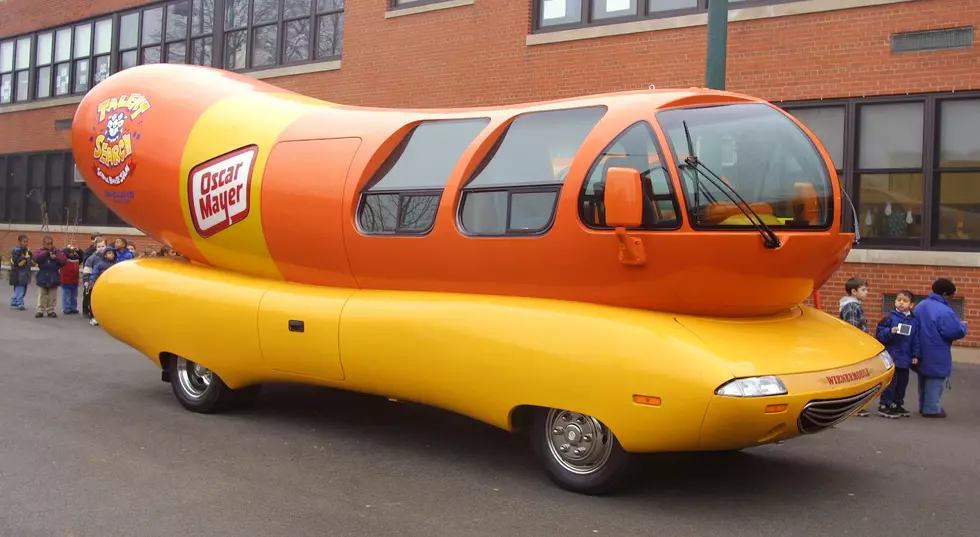 This Giant Hot Dog on Wheels is Headed Straight for Shreveport
Photo by Tim Boyle/Getty Images
When it comes to rolling landmarks, you're really not going to find a more famous vehicle than this. The planter's nut-mobile is cool, but nothing tops the Oscar Mayer Wienermobile!
The rolling hot-dog is a travelling billboard for hot dog makers Oscar Mayer that crisscrosses this nation all year round to raise awareness of summer's most perfect food, attend parties, roll in parades, and more.  If you've never gazed in amazement at the engineering insanity that could this automotive oddity on the road, you're missing out.  This small-bus sized, road legal frankfurter is a sight to behold - and, you're going to get a golden opportunity to do just that.
According to the report from ArkLaTex Weekend, one of Earth's most famous vehicles will be making its way to our neck of the woods - just in time for grilling season!  Between the dates of May 26th and the 29th, the vehicle (and the wiener-ologists that drive it) will be making several stops across the Shreveport-Bossier City area.
If you'd relish a visit with this 27-foot rolling hot dog, and maybe walk away with a wiener-whistle - just ketchup with the schedule here.
If you've ever dreamed of seeing the country through the giant window of a wiener, Oscar Mayer is always on the hunt for a good Hotdogger (seriously what they are called).  You can apply now by getting your buns to this site - if you can cut the mustard.
This Bossier Spot Only Has Hot Dogs and Waffles On the Menu
This Bossier City restaurant called Gina's Waffles & Dogs literally just has waffles and hot dogs on the menu...but its so freakin' good.
The 13 Best Fried-Chicken Joints in Shreveport/Bossier
Anybody with half a brain can fry chicken, but that's not what we're interested in here - we're looking for the best! These are the masters of southern-style yard-bird in our neck of the woods.
The Best Crawfish Spots in Shreveport-Bossier
More From KISS Country 93.7