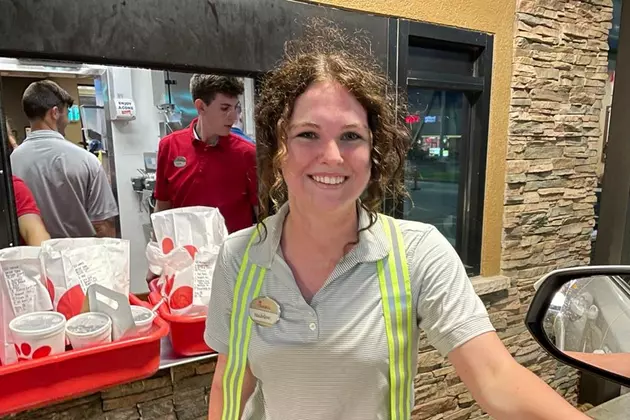 This 16-Year-Old Is Making People Smile All Over North Bossier
Krystal Montez
When You Get Great Service in Shreveport-Bossier It Is Hard to Forget.
It's no secret that there is a shortage of great employees all over town, so when you go somewhere and have fabulous service it's hard to forget a friendly face.
My neighbor and I go to Chick-fil-A once a week and every single time there is this girl at the drive-thru line that gives us an instant mood boost. If you were in a bad mood or you wanted to stay in a foul mood for some reason, I'm sorry, no can do, Madeline at Chick-fil-A is going to get a smile out of you. Maybe it's her energy? Maybe it's her parents who gave her intensive training on how to make everyone feel welcome around her. Madeline has become our favorite part of the drive-thru line at Chick-fil-A.
When We Went Through the Line Recently I Was Sad Because She Wasn't There.
I realized it was sad that my Chick-fil-A experience became so important because of an employee. My neighbor and I drove up to pick up our food and I heard a very chipper "Hi there miss Krystal!" and there it was, an instant mood boost by a cheery Madeline.
Madeline is a Powerlifter and She Works Hard as an Athlete But It Doesn't Stop There for Her.
I also know that Madeline wants to go to OSU and become a veterinarian down the line, so my dog Olive and I will definitely stay invested in her life because I can only imagine how awesome she will treat all her patients.
Thank You Madeline For Making All Of Us Feel Like a Somebody.
I love people who make everyone around them feel important. Even when it's over 100 degrees and this girl just came out of school and practice and went straight to work. Madeline's feel-good attitude is contagious.
On Behalf of Residents in North Bossier, Thank You For Making Us Smile Daily Madeline.
Let's make a point to celebrate the amazing folks in our community who make our community great. Maybe we can all learn a little something from Madeline.
5 of Louisiana's Oldest Restaurants Make Their Home in Shreveport
The Top 10 Biggest High School Football Stadiums in Louisiana
It's no secret that high school football is King in Louisiana, but do you know who's palace is the biggest? Based on seating capacity, these are the biggest high school stadiums in all of Louisiana!
7 Reasons Why You're Lucky to be Living in Louisiana
More From KISS Country 93.7