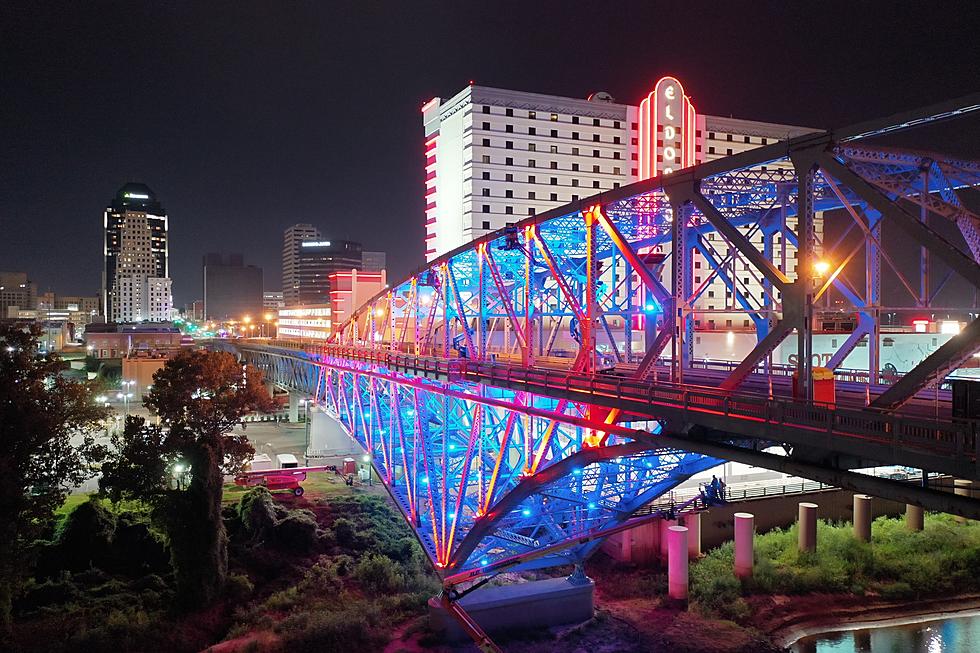 Looking for Fun? Shreveport's 1st 'Glo Fest' Kicks Off Friday
Casey Jones - Shreveport Regional Arts Council
Surely by now you've seen the stunning Bakowski Bridge of Lights spanning the mighty Red River.  The newly-lit bridge that connects Shreveport and Bossier is illuminated by 13,000 bright and colorful LED lights that transform the structure into an incredible light show.
To make sure that we get the chance to enjoy this marvel, the Shreveport Regional Arts Council (SRAC) is kicking off the first of many SBC Glo Fests this Friday.  The event is perfect for the entire family and will feature light shows designed by Certified Student Designers, 4th Graders, and public visitors!
You won't go hungry during the party, either - an entire gallery of food trucks will be on hand.  Since the incredibly captivating light shows on the bridge don't start until dark (9 pm), there will also be tons of entertainment including live music and an arts market, too.
The 1st Glo Fest starts at 7 pm this Friday at the Riverfront Plaza in downtown Shreveport.  Organizers with the festival suggest parking between the Sci-Port Discovery and the J. Bennett Johnston Visitor Center or in the Bally's Garage.  According to a report from the Shreveport Times, the SRAC will host a Glo Fest every month through January of 2023.
Take a Look Inside Shreveport's Historic Downtown Fire Tower Airbnb
Built in 1922 as the Hose Tower for the Downtown Central Fire Station, this gorgeous downtown space has been converted into a 5-story apartment! Have you ever wanted to take a look inside? Here's your chance, and if you like it - you should totally stay here! For around $200
a night you can book it on Airbnb!
Shreveport's Hidden History: The McNeil Street Pumping Station
Shreveport has all kinds of hidden history! Take the McNeil Street Pumping Station for example: It was the last known steam-powered steam powered municipal water treatment plant in the United States - and now that it's a museum, you can see this awesome part of our history up close and personal.
10 Incredible Music History Moments that Happened in Shreveport
Shreveport is rich with music history, but you may have missed some of the best! Check out some of the Ratchet City's biggest moments in music!
More From KISS Country 93.7