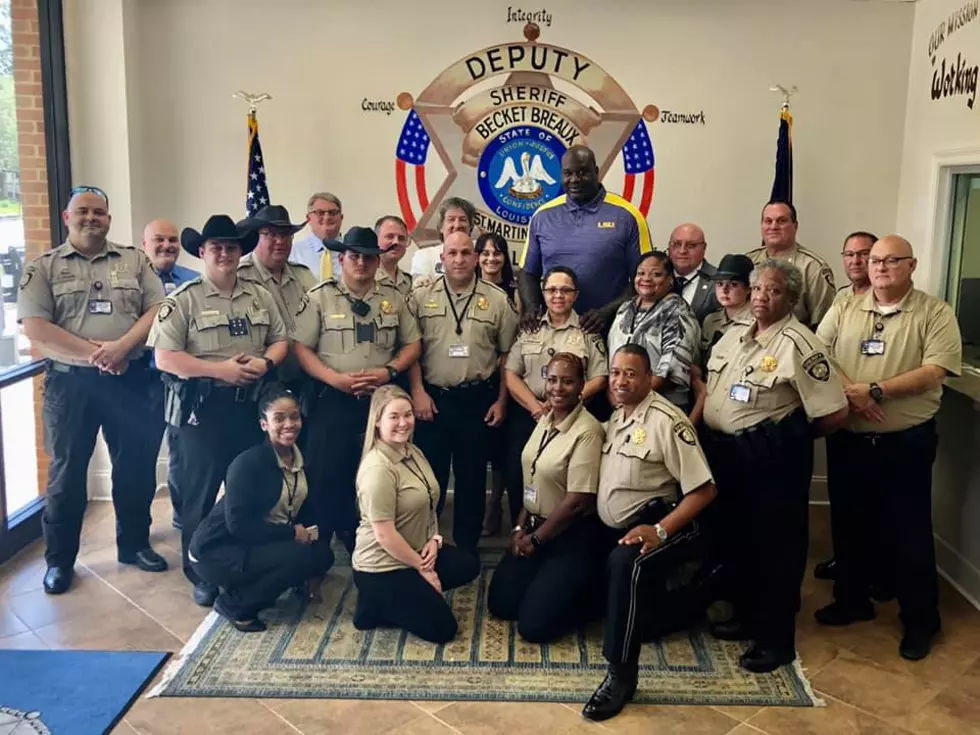 Shaq Joins Louisiana Sherriff's Office
St. Martin Parish Sheriff's Office via Facebook
Enter your number to get our free mobile app
Shaquille O'Neal was born in New Jersey, but much like Joe Burrow, he is very much a  true Louisianian.
Shaq comes back to the boot state where he played his college ball at LSU quite a bit. Whenever he comes to the state, you can bet on two things. People will be talking about Shaq coming to town, and he'll be doing something awesome. Both are without question for his trip back to Louisiana this week.
All week long I've been incredibly envious of friends a little south of Shreveport who were lucky enough to run into the Big Shamrock. I've seen several pictures of the big man posing with fans as he made his way around the state. Today, though, I stumbled across a photo and story that really warmed my heart.
This week, Shaq became a Special Reserve Deputy with the St Martin Parish Sheriff's Office.
O'Neal and St Martin Parish Sheriff Becket Breaux have been friends for a long time. It was only a matter of time before Diesel made it official and put on that Louisiana badge and a (specially made) police uniform. Speaking about the uniform, Breaux says, "By the way the uniform, we have to special order, you know it's a 4X-shirt and 52-length pants, so they may have to special make that pant, but we're gonna get it covered."
Breaux also says that Shaq with be heavily involved with the department, as far as special reserve deputies go.  He says that O'Neal plans to mentor deputies and staff via ZOOM, but when it's time to hit the streets in a patrol car in St Martin Parish, a new vehicle might be in order. Breaux says, "We have to find a large vehicle to fit in. But you know he'll jump in the truck with me and we'll patrol when he's in town. So, don't be surprised when he shows up on a complaint."
Read More: Sports Stars from Shreveport
More From KISS Country 93.7