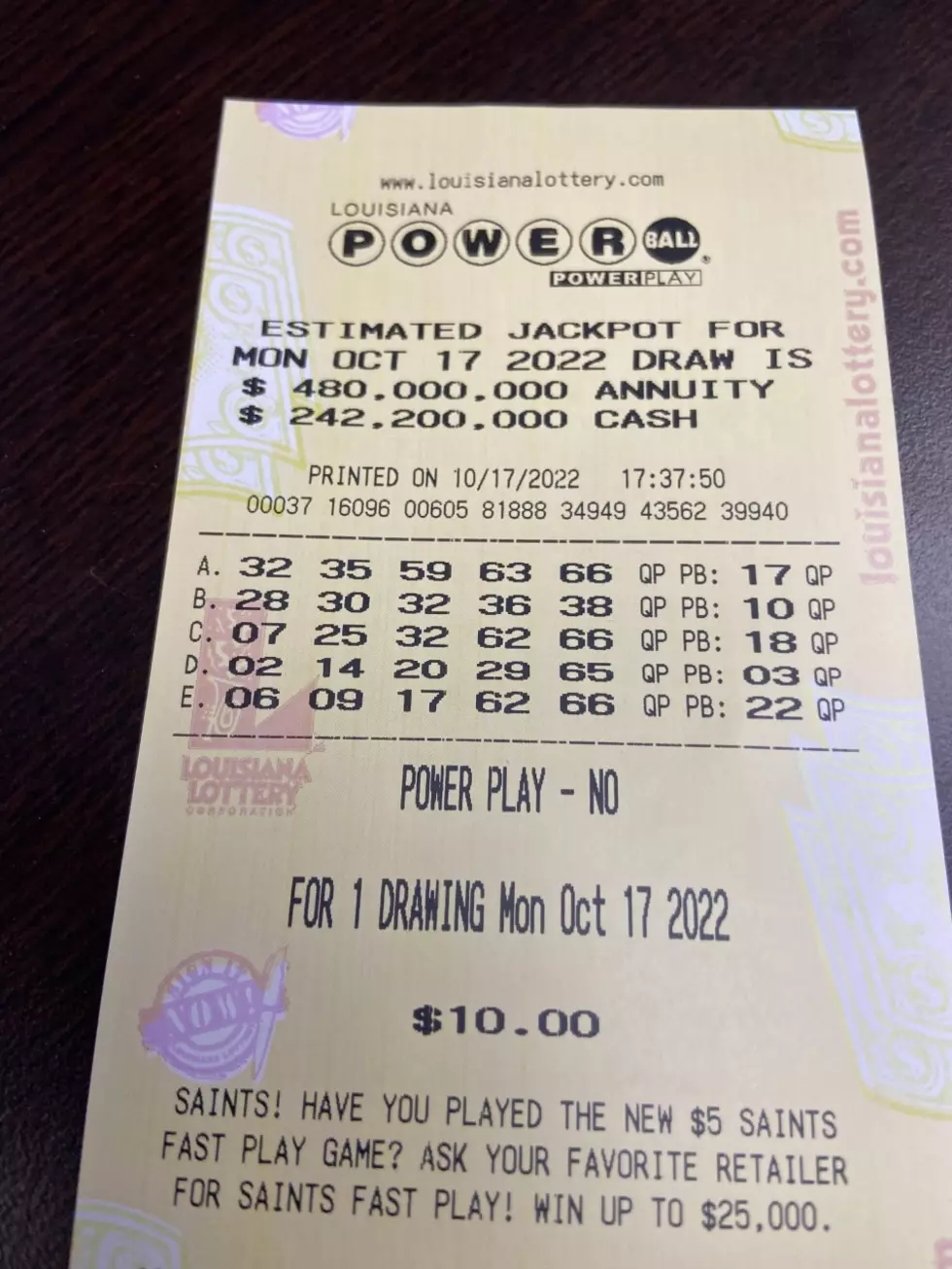 Did Anyone from Louisiana Hit Powerball Jackpot?
Erin McCarty
No big winner in the Monday night Powerball drawing.
We can keep dreaming for a little while longer. Another night with no winner in the Powerball drawing and this means the big jackpot continues climbing. It is now worth $700 million for the Wednesday night drawing. The lump sum cash payout will be $335 million.
This prize is now #8 on the list of the largest lottery jackpots in U.S. history. It's the 5th largest Powerball jackpot in the history of the game.
Here's a list of the top 20 prizes from Powerball and Mega Millions:
1. $1.586 billion Powerball January 13, 2016. There were 3 winning tickets for this prize. These tickets were purchased in Tennessee, Florida, and California. Each had the option to take a lump sum of $327.8 million.
2. $1.537 billion Mega Millions October 2018. There was one winning ticket purchased in South Carolina. The ticket was sold at a KC Mart convenience store in the town of Simpsonville. This is the largest single-ticket jackpot in U.S. history.
3. $1.337 billion Mega Millions, July 29, 2022 one winning ticket in Illinois.
4. $1.050 billion Mega Millions ($776.6 million cash) was won by the Wolverine FLL Club of Oakland County, Michigan in January of 2021.
5. $768.4 million, Powerball won by a single ticket in Wisconsin. Cash: $477 million.
6. $758 million, Powerball won August 24, 2018, by Mavis Wanczyk of Massachusetts. She chose the lump sum payment of $480 million.
7. $731 million, Powerball, won by a single ticket purchased in Maryland on Jan. 20, 2021.
8. $700 million, Powerball is up for grabs on Wednesday, October 27, 2022.
9. $699 million, Powerball won on October 4, 2021 in California. The ticket was sold at an Albertson's grocery store.
10. $687.8 million, Powerball won Oct. 27, 2018. There were two winning tickets. One in Iowa and another in New York.
11. $656 million, Mega Millions, won March 30, 2012, by three tickets, sold in Maryland, Illinois and Kansas. Cash: $471 million
12. $648 million, Mega Millions, won Dec. 17, 2013, in Georgia and California. Cash: $347.6 million.
13. $632 Million Powerball Wednesday, January 5, 2022. Two winning tickets, one in California and one in Wisconsin will split the jackpot.
14. $590.5 million, Powerball, won May 18, 2013, in Florida. Cash: $370.9 million.
15. $587.5 million, Powerball, won Nov. 28, 2012, by two tickets, sold in Missouri and Arizona. Cash: $384.7 million
16. $564 million Powerball was split among 3 winning tickets, one each from North Carolina, Texas and Puerto Rico.
17. $559 million Powerball, A single ticket was sold at Reeds Ferry Market in Merrimack, NH.
18. $543 million Mega Millions. There was one winning ticket sold in California in the July 2018 drawing.
19. $536 million Mega Millions, a single ticket was sold in Indiana on July 8, 2016.
20. $533 million Mega Millions, a single ticket was sold in New Jersey for the March 30, 2018 drawing.
Great Halloween Events in Shreveport Bossier
Looking for something to do for Halloween? Lots of local events are coming up.
What States Have the Worst Roads
Where does Louisiana fall on the list of shabby roads?
More From KISS Country 93.7