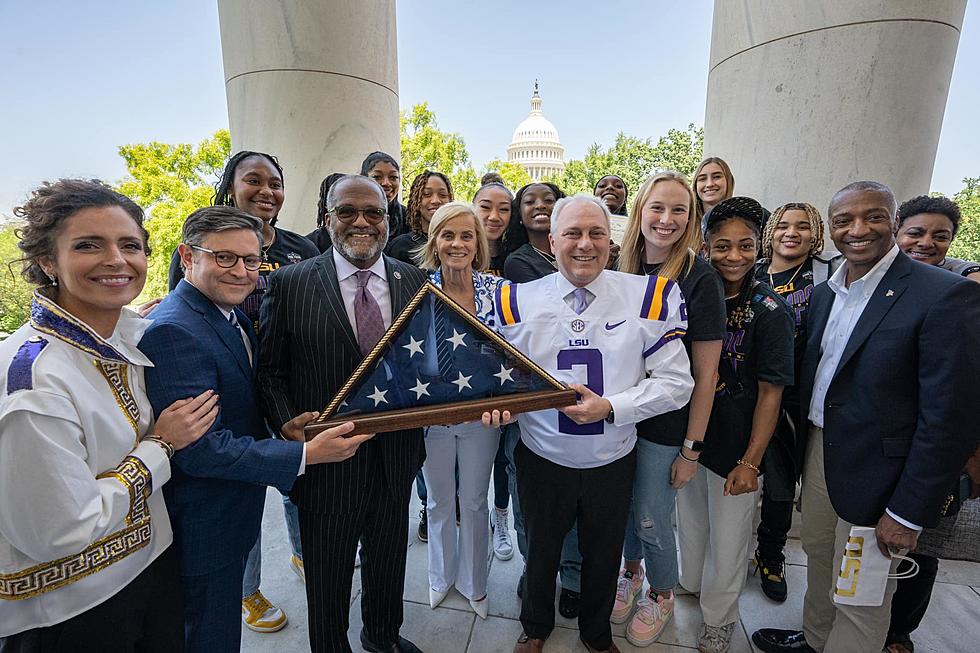 LSU Lady Tigers Honored in Washington D.C.
Courtesy of Congressman Steve Scalise
The LSU Lady Tigers National Championship basketball team is being honored in our nation's capitol.
The players, coaches and other staff got the red carpet treatment. Congressman Mike Johnson was thrilled to be able to celebrate with the team and his colleagues.
Johnson says "The Louisiana delegation welcomed the 2023 NCAA National Champions, the LSU Women's Basketball team to Capitol Hill today! It was great to see them all, including the 4th District's own Emily Ward- team co-captain & Benton High School graduate!"
You will note in the photo Johnson took with Emily, he is standing on a step so he doesn't look like the short guy in the photo.
Congressman Steve Scalise also greeted the team along with the Louisiana delegation and here's another photo that shows just exactly how tall some of these players are.
Scalise was honored with a brand new LSU Jersey which is pretty cool. It says "majority leader" on the back.
This was a really cool moment when the Majority leader welcomed legendary coach Kim Mulkey to the capital. You can see the pride in the eyes of both of these folks.
This is the first time an LSU basketball team, either men or women has won a national title. Mulkey has won 4 championships. Her previous 3 were as the coach of Baylor.
Scalise says "The National Champions are in the House!! Honored to welcome LSU's Women's Basketball Team and legendary coach Kim Mulkey to the United States Capitol! Geaux Tigers!"
The team will be honored by President Joe Biden at the White House today.
Pics From LSU's Women's Basketball National Championship Win
More From KISS Country 93.7