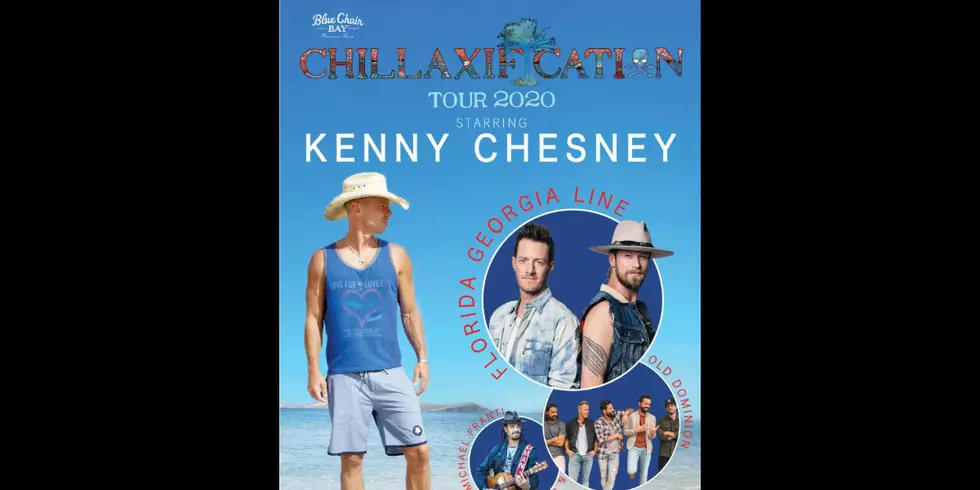 Kenny Chesney to Return to AT&T Stadium in Arlington, Tx.
Promotion Photo
According to urbandictionary.com, the term "Chillaxification" refers to the "act of chilling out or relaxing."  Well, we Kenny Chesney fans will do just about anything but "chill out" with his announcement today that he'll bring his "Chillaxification 2020" Tour to AT&T Stadium in Arlington, Texas on Saturday, April 18, 2020!
Kenny Chesney along with Florida Georgia Line, Old Dominion and Michael Franti + Spearhead will all appear in "the house that Jerry built" this coming April, and if my instincts are right, everyone will be on their feet for the whole show with anything but "chillaxing" on their brains.
Tickets will go on sale to the general public on Friday, October 4 at 10:00 am through www.seatgeek.com (AT&T Stadium new ticketing partner), BUT, as with all the BIG concerts, Kiss Country will again prove that we are Your Country Concert Connection, and we'll have your chance to buy tickets a full day early!
Next Thursday, October 3, be watching for our special internet pre-sale, along with the special pass code that you'll need to buy your tickets a full 24 hours early.
More From KISS Country 93.7