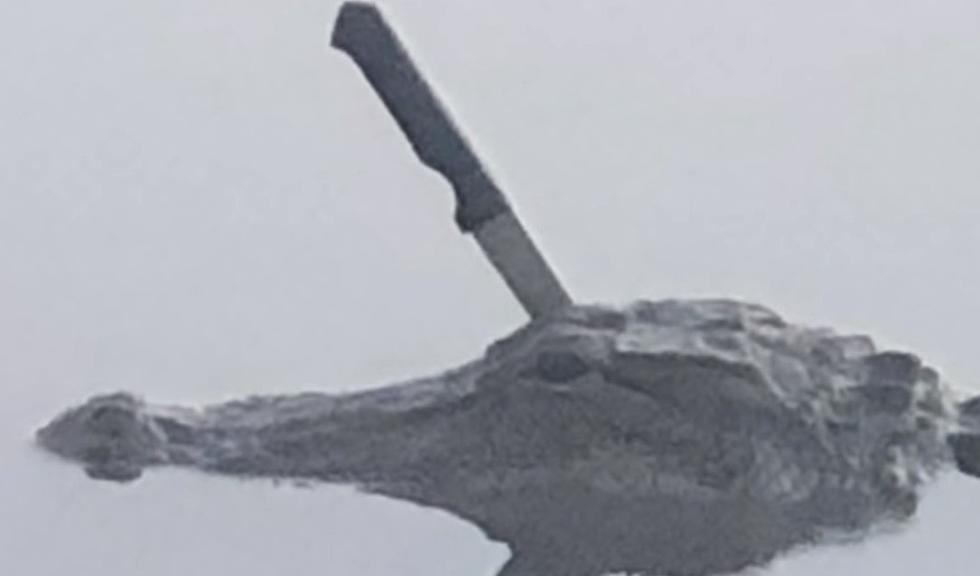 Have You Seen The Video of the Alligator With a Knife in Its Head?
Screenshot from YouTube video by ABC13 Houston
I'm hanging my head in shame. I don't know how I missed this. I pride myself on thoroughly searching for amazing news stories on a daily basis and somehow this one slipped by me.
However, thanks to our own Brandon Michael, I've been educated. Knowing how much I am into the outdoors, he sent me a link to this story that is actually a couple of years old now.
It's a story from Sugar Land, Texas right outside of Houston and though the sight of a full grown alligator with a steak knife protruding from his skull isn't something you see every day, the real story, to me, is in how that knife got there to begin with.
Did someone actually get close enough to this gator to stab him or was this some kind of ninja knife throw from a safe distance away?
And exactly what led up to the action of stabbing him in the first place?
Was this one of those "Bubba the Redneck Moments?" A "hold my beer and watch this kind of action?"  Or was this the last act of a desperate person trying to defend themselves only to lose the battle and be posthumously remembered as the "villain who hurt this poor little creature?"
Is there now some one armed guy by the name of Lefty who sits around bars late at night while other patrons buy him beer as he tells the story about the day an alligator attacked him while he was walking his pet poodle, Dexter, around the pond in his neighborhood?
There are endless scenarios that "could be" or "might be", but even two years after the first sighting of this gator, no one has come forth to tell the story.
To make things even more suspenseful, in the last report from the area from Click2Houston.com, we learn:
The Fort Bend County Game Warden's Office said they searched for the gator on Friday but were unable to find it. Officials said they think the knife may have fallen out of its head, but are going to continue searching.
So we might never get the real story, but if I were a betting man, someone named "Leon" or "Junior" knows what really happened.
Read More: Most Dangerous Louisiana Creatures
Read More: Why Does It Only Hail in Summer? And Other Weird Weather Facts
More From KISS Country 93.7