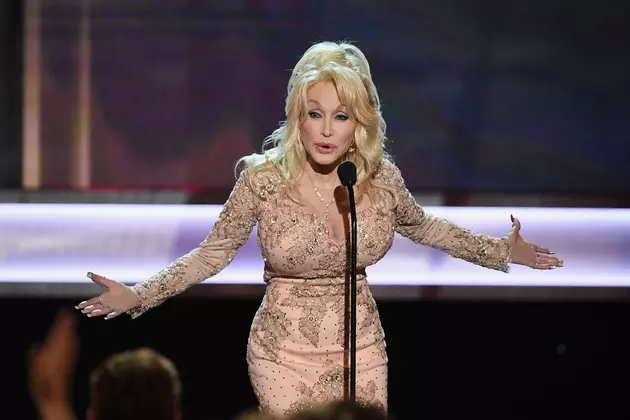 Dolly Parton's 'Christmas of Many Colors' Nominated for 2017 Emmy Awards
Kevin Winter, Getty Images
Dolly Parton's made-for-TV movie Christmas of Many Colors: Circle of Love has earned an Emmy Awards nomination! The film is nominated for Outstanding Television Movie.
Christmas of Many Colors: Circle of Love will be competing for the Outstanding Television Movie trophy at the 2017 Emmy Awards with Black Mirror: San Junipero, Sherlock: The Lying Detective (Masterpiece), The Immortal Life of Henrietta Lacks and The Wizard of Lies. The film -- Parton's second made-for-TV movie -- aired in November of 2016.
Christmas of Many Colors: Circle of Love tells more of the story of Parton's childhood, sharing the country icon's memories of one particular Christmas, and how her family began to realize that she could be a star. The film stars, among others, Jennifer Nettles, as Parton's mother.
"We just want families to feel closer together," Parton explains of the film. "We've scattered so much, as a family, because of all the new ways, new technology — which is wonderful to have all these great things available to us — but I think we lose a lot, and have lost a lot, about family, so more than anything, I just want people to feel the joy of Christmas and what Christmas is really about, which is Jesus, and about just that love of family."
In 2015, 13 million people tuned in to watch Dolly Parton's first made-for-TV movie, Coat of Many Colors. Christmas of Many Colors, which premiered on Nov. 30, 2016, earned 11.4 million viewers and a 1.8 ratings share in the adults 18-49 years of age demographic, putting the film at the top of viewership in terms of total viewers.
Also among 2017's Emmy Awards nominees is The Voice, the TV singing competition on which Blake Shelton is a coach; the show is nominated for Outstanding Reality Competition Program. Additionally, "The Ballad of Claus Jorstad (Devil Stool)" -- written by Jimmy Kimmel and Gary Greenberg and performed on Jimmy Kimmel Live by Justin Moore -- is nominated in the Outstanding Original Music and Lyrics category.
The 2017 Emmy Awards will air live on CBS on Sept. 17 at 8PM ET. A complete list of 2017's Emmy Awards nominees is available on Emmys.com.
Dolly Parton Through the Years
11 Unforgettable Dolly Parton Moments
More From KISS Country 93.7