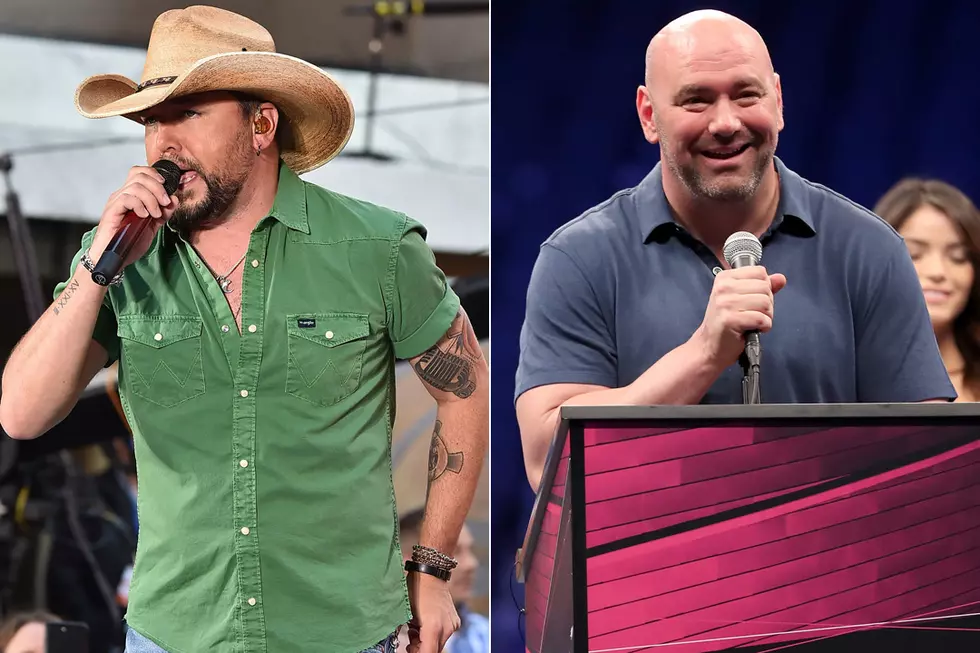 UFC's Dana White Trashes Jason Aldean After Being Spurned for 'SNL'
Christian Petersen / Theo Wargo, Getty Images
UFC president Dana White says Jason Aldean and country music let down the survivors of the Las Vegas shooting in turning down his offer to sing the National Anthem on Saturday night (Oct. 7). He called Aldean's team liars.
On Saturday night, Aldean opened Saturday Night Live with a statement and a performance of Tom Petty's "I Won't Back Down" before flying to Las Vegas to visit with victims on Sunday. White says he invited the "They Don't Know" singer to sing the National Anthem at UFC 216, but was told he was too shaken up to do it.
"His image was more important than coming back to Vegas and playing for the people who are his fans and who got shot watching him play," White tells TMZ Sports, adding:
"F--k you Jason Aldean. Stay out of Vegas."
These Are the Faces and Stories of the Las Vegas Shooting Victims
Several other country singers turned down the opportunity to sing the anthem, White adds, saying that survivors and first responders were in attendance. It's not clear which other singers declined and why. Talking about the chain of events on his radio show on Monday morning, Bobby Bones revealed that White had reached out to his team hoping for an interview on Friday, but was denied because it didn't feel right. Bones indicated that he felt White was more interested in selling tickets than helping survivors.
The rock band Everlast ultimately performed the National Anthem at UFC 216.
Aldean was on stage when a lone gunman opened fire on the crowd at the Route 91 Harvest Festival on Oct. 1. Fifty-eight people in the crowd were killed and more than 500 were injured. The superstar canceled his weekend tour dates in California, but says he'll return to the stage on Oct. 12 in Tulsa.
Jason Aldean Returns to Las Vegas
More From KISS Country 93.7