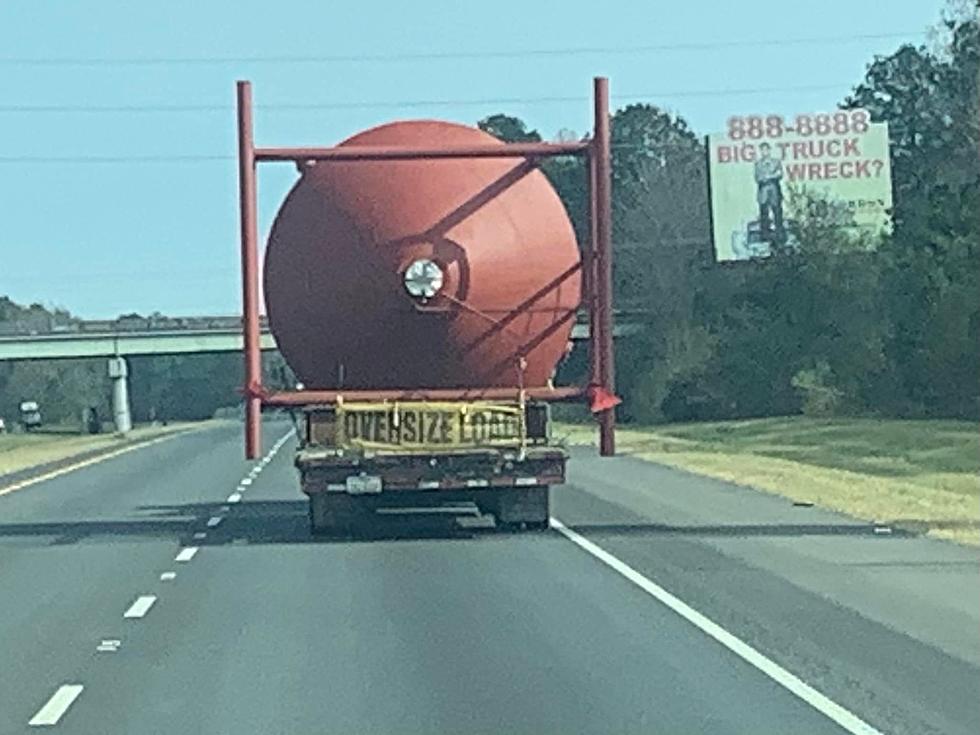 Shreveport-Bossier City Plays 'Caption This' with Hilarious Results
Bristol/TSM
Have you ever seen something driving down and the road and wondered, 'What the heck is that?' I saw this driving I-20 east in Bossier Parish this week and was totally confused as to what it might be. It brought the mysterious 'super load' from back in 2016 to mind. That turned out to be some kind of cold storage apparatus. But still, I want to know... what the heck is this?
I know that they say that curiosity killed the cat, but it was just odd enough for me to take a picture of it so I could ask my friends via social media later what the heck it was. Turns out, they didn't know either. However, they had some great guesses. Here are some of my favorites!
Cade Galey
"Final Destination: The Next Chapter"
Tracey Burnes Justice
Is that Janet Jackson's "jewelry"
Elizabeth Herriage
2022 has come to town...
PS... I like the irony of the billboard
Susan Thompson-Jackomin
lol, someone might finally understand what it is like for me to buy bras
Julie Wrzesinski
Looks like he's pissed off with tailgaters and has a big a$$ ray gun.
Claire Williams
A real-life Pokémon ball?
Bubba Hattaway
Gordon's money vault
Curtis Brooks
I wonder if it's big enough for her
Sandra Moore
I think it needs a sign that says "Let's go Brandon"!
Scott Goldstein
Joe dirt would strap it to his back
Richard Sharkbite McBroom
A Kardashian enema machine
Jason Middlebrook
Metal Anus... Which is also a great band name.
Daniel Baham
That's part of the new "Grande Oscar Mayer Weiner Mobile"
Barbara Webster Kearney
Carrying Gordon's ego back to him.
Danny Minter
Jeff Bezos' homemade rocket
Christine Burgess
Urinal for Loch Ness monster.
Read More: Shreveport-Bossier's Most Unique Landmarks
Read More: 10 Worst Intersections in Shreveport-Bossier
Read More: WHAT STATES DO TRUCKERS SAY HAVE THE WORST DRIVERS?
More From KISS Country 93.7