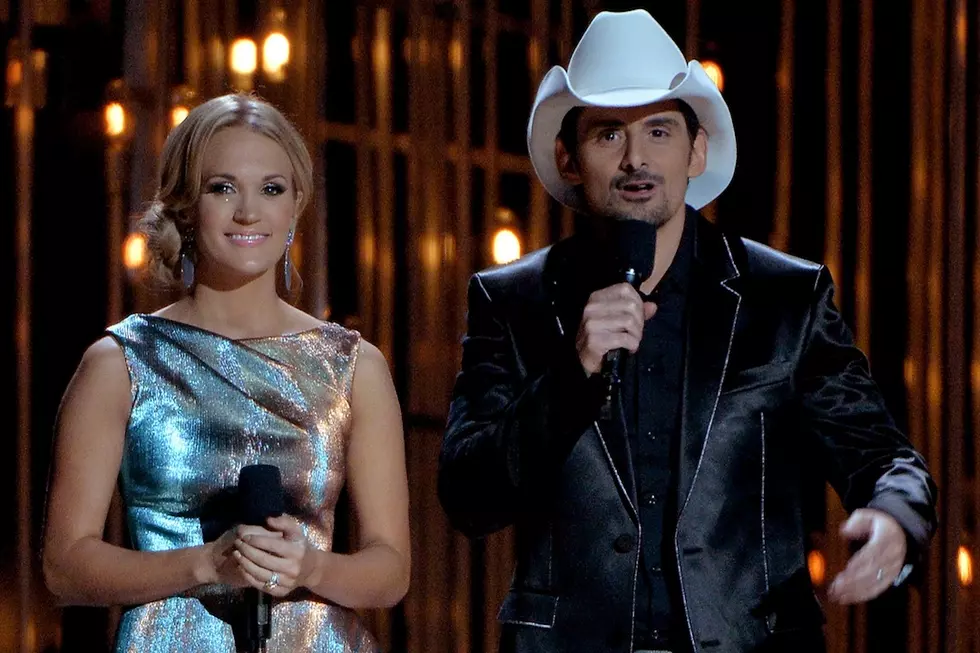 Margo Price, Ryan Adams Offer Snarky Responses to 2017 CMA Awards Media Guidelines
Rick Diamond, Getty Images
On Thursday afternoon (Nov. 2), the Country Music Association distributed guidelines for media members approved for red carpet and media room access at the upcoming 2017 CMA Awards. Among the typical technical guidelines and logistical details is a warning to journalists to avoid questions about the Route 91 Harvest Festival shooting, gun control and politics, among other controversial topics. As the guidelines have begun to spread, both among members of the media and online, some -- including Margo Price and Ryan Adams -- have used social media to sound off about the requirements.
The paragraph detailing those topics verboten on the 2017 CMA Awards red carpet comes near the beginning of the lengthy media guidelines document. The CMA writes that it is making the request "[i]n light of recent events, and out of respect for the artists directly or indirectly involved."
"It's vital, more so this year than in year's [sic] past due to the sensitivities at hand, that the CMA Awards be a celebration of Country Music and the artists that make this genre so great," the media guidelines continue. "It's an evening to honor the outstanding achievements in Country Music of the previous year and we want everyone to feel comfortable talking to press about this exciting time."
The CMA's media guidelines explain that those who do not adhere to these rules will have their credentials reviewed "and potentially revoked via security escort."
Both Price and Adams re-tweeted media coverage of these guidelines and added some thoughts of their own: Price -- whose recently released sophomore album, All American Made, includes a song called "Pay Gap" and who sang about some inappropriate behavior she witnessed in the industry on her freshman disc -- writes, "And people wonder why I'm not invited ...," including a questioning emoji and a smirking emoji.
Adams, meanwhile, tweeted out a snarky list of "approved topics" for the 2017 CMA Awards red carpet. His suggestions include "wagon wheels," "cussin' at snakes," "dangits" and more.
Remembering the Route 91 Harvest Festival Shooting Victims
CMA Awards co-host Brad Paisley has previously stated that he and co-host Carrie Underwood plan to honor those who died and were injured during the Route 91 Harvest Festival shooting, but will try to strike a balance.
"We're not going to ignore it," Paisley says, "but we're not going to also dwell on that. We have to make sure we honor those we've lost, but we also [have to] celebrate this music, which lives on, and do a good job having the heart we need to have on that night," Paisley adds. "And also the theme of the show this year is very much about unity and coming together as a format."
The 2017 CMA Awards are scheduled to air on ABC on Nov. 8, at 8PM ET; the ceremony will take place live at Nashville's Bridgestone Arena. Paisley and Underwood will host the ceremony for the 10th year in a row.
UPDATE: On Friday afternoon (Nov. 3), around 1PM ET, the Country Music Association distributed via email a statement apologizing for distributing the guidelines in question and noting that they have been lifted. "The sentiment was not to infringe and was created with the best of intentions to honor and celebrate Country Music," the statement reads in part.
The Boot will be staying up late covering the most buzzed-about winners, fashion and moments at the 2017 CMA Awards. Readers can watch along with us by checking back to TheBoot.com for the latest CMAs headlines, liking The Boot on Facebook and following The Boot on Twitter.
Wild and Wacky CMA Awards Fashions
Test Your CMA Awards Knowledge!
More From KISS Country 93.7